John R. Fultz's Seven Kings on Sale Today
John R. Fultz's Seven Kings on Sale Today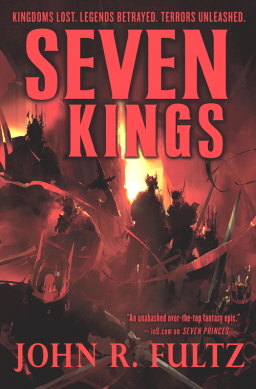 John R. Fultz took the world by storm with his first novel, Seven Princes, published last January. In a starred review, Library Journal praised it as "A stand-out fantasy series from an author with an exceptional talent for characterization and world building," and io9 labeled it "Epic with a capital EPIC."
Seven Princes was just the down payment. The next installment arrives today. Seven Kings is the second of the Books of the Shaper, one of most hotly anticipated epic fantasy series on the market.
In the jungles of Khyrei, an escaped slave seeks vengeance and finds the key to a savage revolution.

In the drought-stricken Stormlands, the Twin Kings argue the destiny of their kingdom: one walks the path of knowledge, the other treads the road to war.

Beyond the haunted mountains King Vireon confronts a plague of demons bent on destroying his family.

With intrigue, sorcery, and war, Seven Kings continues the towering fantasy epic that began with Seven Princes.
John published three highly acclaimed short stories in the print incarnation of Black Gate: "Oblivion Is the Sweetest Wine" (BG 12), "Return of the Quill" (BG 13), and "The Vintages of Dream" (BG 15). He was this week's featured writer in our Black Gate Online Fiction line with his sword & sorcery tale, "When the Glimmer Faire Came to the City of the Lonely Eye," available free online here.
You can read last year's announcement on Seven Princes here; and we were proud to offer readers the complete first chapter of Seven Kings right here last month.
Seven Kings was published by Orbit on January 15, 2013. It is 496 pages in trade paperback, available for $15.99 ($9.99 ePub and PDF). Learn more at the Orbit website.
Read the first chapter of Seven Kings here.