Black Gate Online Fiction: Pathfinder Tales: Queen of Thorns by Dave Gross
Black Gate Online Fiction: Pathfinder Tales: Queen of Thorns by Dave Gross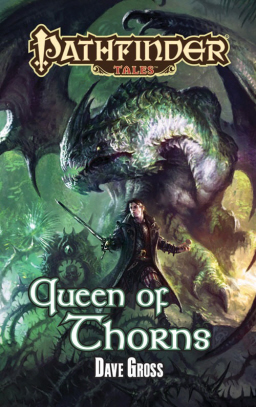 Black Gate is very pleased to offer our readers an exclusive first look at the latest Pathfinder Tales novel by Dave Gross, the acclaimed author of Prince of Wolves and Master of Devils.
In the deep forests of Kyonin, elves live among their own kind, far from the prying eyes of other races. Few of impure blood are allowed beyond the nation's borders, and thus it's a great honor for the half-elven Count Varian Jeggare and his hellspawn bodyguard Radovan to be allowed inside. Yet all is not well in the elven kingdom: demons stir in its depths, and an intricate web of politics seems destined to catch the two travelers in its snares. In the course of tracking down a missing druid, Varian and a team of eccentric elven adventurers will be forced to delve into dark secrets lost for generations — including the mystery of Varian's own past.
Dave Gross is the former editor of Dragon, Star Wars Insider, and Amazing Stories. His adventures of Radovan and Count Jeggare include the Pathfinder Tales novels Prince of Wolves and Master of Devils, as well as many novellas and short stories available at Paizo.com. His other novels include Winter Witch with Elaine Cunningham, and the Forgotten Realms novels Black Wolf and Lord of Stormweather.
We previously reviewed the Pathfinder Tales novels Death's Heretic by James L. Sutter, Master of Devils by Dave Gross, and Howard Andrew Jones's Plague of Shadows, and introduced you to BG Contributing Editor Bill Ward's Pathfinder Tales story "The Box, and "The Walkers from the Crypt" by Howard Andrew Jones.
Pathfinder Tales: Queen of Thorns is published by Paizo Publishing and is part of their Pathfinder Tales Subscription. It is a 432-page mass market paperback available for $9.99 ($6.99 ePub and PDF). The digital versions are available today; the print version is officially on sale November 13, 2012. Learn more at Paizo.com.
"The Midsummer Masquerade," the complete first chapter of Queen of Thorns, is presented exclusively here at Black Gate; Chapters Two and Three are available at Flames Rising and SF Signal.
Read Chapter One of Queen of Thorns here.