The Force is With Disney
The Force is With Disney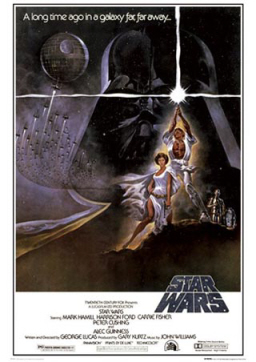 By now, most of you have heard that Disney has purchased Lucasfilm — the studio that produced Star Wars, Indiana Jones, and many other SF and fantasy properties — for over $4 billion. The deal was very similar to Disney's acquisition of Marvel three years ago.
Prominent among the headlines was the news that Disney and Lucasfilm are already hard at work on Star Wars VII, aiming for a 2015 release, and that they also plan to produce Episodes VIII and IX. Walt Disney chairman Bob Iger announced that they expect to "release a new Star Wars feature film every two to three years." If this is all news to you, Entertainment Weekly has a lengthy article here, including a 5-minute video in which you can hear George Lucas detail his current work on future films with unnamed writers.
"We could go on making Star Wars for the next 100 years," Lucas says.
Okay. While part of me is appalled to see Lucasfilm, perhaps the most successful and creative independent studio of the last century, get swallowed up by an all-devouring entertainment conglomerate, that part has been roundly shouted down by my inner twelve-year-old, who desperately wants more Star Wars movies.
Now, I know what you're thinking. Do I want Star Wars movies if they're ground out on a schedule by a soulless corporation interested only in profit?
You know, I kinda do.
I've got nothing against corporations. Disney's done pretty well by Marvel, far as I can see — and Pixar, now that I think about it (Disney bought Pixar from Steve Jobs in 2006). As for profit, the neat thing about profitable franchises is that they can attract talent. Look at Batman, Iron Man, and The Avengers.
And finally, I'm a fan of serial fiction. I know that properties can pass out of the hands of their creator, and land safely — especially pulp properties. That's the process that brought us Frank Miller's Dark Knight Returns, Star Trek IV, and the tenth regeneration of Dr. Who.
So while I expect to see a lot of debate in the fan press, I don't expect to be part of it. Instead, I'll be in line early in 2015, anxious to see the new Star Wars film. Even if it's terrible, I won't be too worried. Disney will keep trying. When you pay $4 billion for something, you tend to treat it right.