Behind the Plague of Shadows
Behind the Plague of Shadows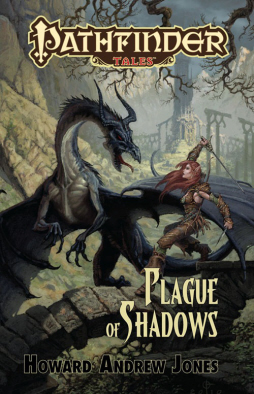 Over at Flames Rising, Black Gate Managing Editor Howard Andrew Jones talks about the genesis of his Pathfinder novel Plague of Shadows:
I pitched [editor James Sutter] "Jirel of Joiry crossed with Unforgiven." I wasn't planning to lift the character or the plot, but I hoped to evoke a similar feel… I'd never written anything with orcs or dwarves, and while I'd scripted an evil sorcerer or two, they'd never been Pathfinder magic users. Writing deals in a lot of archetypes, and fantasy gaming fiction tends to wear those archetypes proudly on its sleeves — the elven archer, the surly half-orc, the mysterious wizard. I embraced those archetypes and tweaked them, as any gamer would when designing a character for play. I planned out scenes that would put the characters in conflict so I could get a better handle on who they were and what was important to them.

I started writing within a day or two of getting my outline approved, and pretty quickly I realized that I needed to stat out my main characters. I've been gaming regularly with a variety of systems since I was about 9, but in all that time, I'd never rolled up story characters prior to writing about them… I kept the rule book handy so that my spell descriptions would match, as closely as possible, the spiffy descriptions drafted by the Paizo maestros.
You can learn more about Plague of Shadows here, and the complete conversation with Howard is at Flames Rising.