The Top 20 Black Gate Fiction Posts in September
The Top 20 Black Gate Fiction Posts in September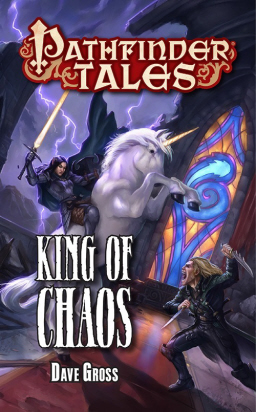 Dave Gross shot to the top of our fiction charts last month, with an exclusive excerpt from his new Pathfinder Tales novel King of Chaos. The halo affect also lifted his previous book in the series, Queen of Thorns, into an impressive 4th place.
There were a few other new faces on the list. BG regular Peadar Ó Guilín debuts in 6th place with his fourth story for us, "The Dowry," the tale of an artist caught with a wizard's daughter who soon finds himself in the body of a dog, and Michael Shea makes the list for the first time with his novella of Lovecraftian horror "Tsathoggua." John C. Hocking leaps into the list despite the fact that his "Vestments of Pestilence" appeared with only two days left in the month, with a story that author James Reasoner called "An absolute joy to read… If you're a fan of action-packed heroic fantasy, I guarantee you'll be entertained."
Ryan Harvey returns with his new Ahn-Tarqa tale "Stand at Dubun-Geb," which Tangent Online called "A fun story that reminded me of Conan." It joins the first Ahn-Tarqa tale in the Top 20, "The Sorrowless Thief," published in April.
Also making the list were exciting stories by Joe Bonadonna, Howard Andrew Jones, E.E. Knight, Mike Allen, Vaughn Heppner, Aaron Bradford Starr, Jamie McEwan, Martha Wells, John R. Fultz, Gregory Bierly, and David C. Smith and Joe Bonadonna.
If you haven't sampled the adventure fantasy stories offered through our new Black Gate Online Fiction line, you're missing out. Every week we present an original short story or novella from the best writers in the industry, all completely free. Here are the Top Twenty most-read stories in September:
The complete catalog of Black Gate Online Fiction, including new stories by David Evan Harris, Janet Morris and Chris Morris, Mark Rigney, Vera Nazarian, Nina Kiriki Hoffman, C.S.E. Cooney, Jason E. Thummel, Judith Berman, Harry Connolly, and many others, is here.
The Top fiction from August is here.