The Top 20 Black Gate Fiction Posts in August
The Top 20 Black Gate Fiction Posts in August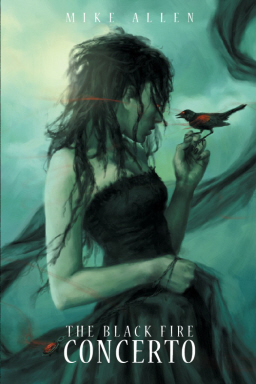 There's a few new faces on the Top Fiction list this month.
Mark Rigney's "The Keystone," third and final chapter of his epic fantasy series The Tales of Gemen, broke into the Top Five. Tangent Online called it "Masterfully told… The tension never stops, starting with nightmares, followed by chases across half the world… Once I started reading, I couldn't stop." Both of the previous chapters made the list as well, including the opener "The Trade," which Tangent Online called "Marvelous!" and "The Find," which it described as "Reminiscent of the old sword & sorcery classics… A must read."
Also making the Top Five for the first time was our excerpt from Mike Allen's new dark fantasy The Black Fire Concerto, which Tanith Lee called "A prize for the multitude of fans who relish strong Grand Guignol with their sword and sorcery." And Vaughn Heppner had two of his Tales of Lod in the Top 10:  "The Serpent of Thep" and "The Pit Slave."
Also making the list were exciting stories by Howard Andrew Jones, Joe Bonadonna, E.E. Knight, Paul Abbamondi, Martha Wells, Aaron Bradford Starr,  David C. Smith and Joe Bonadonna, Ryan Harvey, Judith Berman, Robert Rhodes, Emily Mah, John R. Fultz, and Jamie McEwan.
If you haven't sampled the adventure fantasy stories offered through our new Black Gate Online Fiction line, you're missing out. Every week, we present an original short story or novella from the best writers in the industry, all completely free. Here are the Top Twenty most-read stories in August:
The complete catalog of Black Gate Online Fiction, including stories by Michael Shea, Peadar Ó Guilín, Dave Gross, Vera Nazarian, Nina Kiriki Hoffman, C.S.E. Cooney, Jason E. Thummel, and many others, is here. The Top fiction from July is here.
We've got plenty more in the coming months, including new fiction from John C. Hocking, Janet Morris, Vaughn Heppner and many others — so stay tuned!