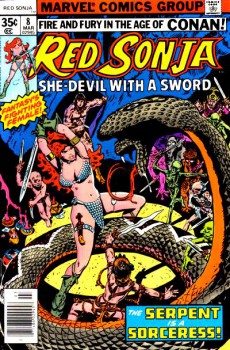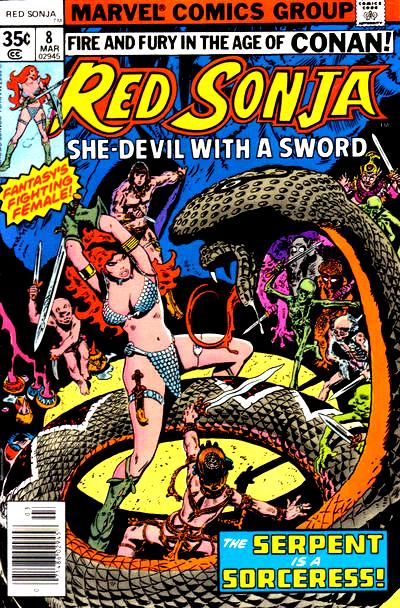 When we last left Red Sonja, she was about to be hung for killing some guy twenty issues ago. Last month, Oryx, a mammoth-riding bully, decided to turn her in to the victim's family for a reward. Apparently, he opted for the dead option in dead or alive.
This issues begins with Sonja managing a few more insults and even a good kick before she's cut free of the noose by Suumaro, Oryx's brother and local outcast.
His motive? Why, he wants to make Red Sonja his wife, of course. Poor Suumaro.
So after a rooftop fight with a couple of thugs, Sonja and Suumaro (oh, both their names start with S – they could use the same monogrammed towels) are out of the fort and into the surrounding hills, where they find his military camp. It seems that Summaro wasn't the only one cast out of the fort. He apparently sneaks back in every now and again to gather intelligence against the day when his army takes it back. And after watching Red Sonja fight, he invites her to join his army.
Thing is, Red Sonja's been around the block a few times. She knows how this thing goes. And she's met her share of guys claiming to be impressed by her prowess in battle, when in fact they're just trying to get her out of her chain mail. She asks Suumaro point-blank if he's got a wife and his answer is, "I've got several … but that is of little consequence to me at this moment."
Red flag. Two red flags, actually. Red flag one? He's got multiple wives. Sonja's just escaped the noose for murdering one polygamist and this could be a terrible trend. Red flag two? His wives are of little consequence to him.
---