Harry Connolly's Child of Fire
Harry Connolly's Child of Fire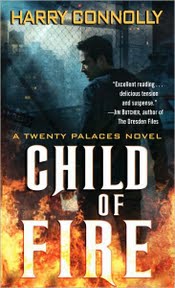 Harry James Connolly made his first fiction sale with "The Whoremaster of Pald," way back in issue 2 of Black Gate. 
It was the most popular piece in the issue by a fair margin, and not just because the title grabbed readers' attention (although, speaking as the person who picked it out of the submissions pile, the title definitely didn't hurt).
Since then Harry has appeared frequently in our pages and his fourth story, "Eating Venom," will be in BG 15.  But he hasn't spent all his efforts on short fiction, as evidenced by the arrival of his first novel, Child of Fire.
Child of Fire is described as "a contemporary fantasy in the tone and style of a crime thriller," and it's received a lot of great press — including a mention on the Publishers Weekly's Best Books of 2009 list. 
Here's what bestselling author Jim Butcher says about it:
"Excellent reading… has a lot of things I love in a book: a truly dark and sinister world, delicious tension and suspense, violence so gritty you'll get something in your eye just reading it, and a gorgeously flawed protagonist. Take this one to the checkout counter. Seriously."
And here's the publisher's blurb:
Ray Lilly is just supposed to be the driver. Sure, he has a little magic, but it's Annalise, his boss, who has the real power. Ray may not like driving her across the country so she can hunt and kill people who play with dangerous spells­especially summoning spells­but if he tries to quit he'll move right to the top of her hit list.

Unfortunately, Annalise's next kill goes wrong and she is critically injured. Ray must complete her assignment alone­he has to stop a man who's sacrificing children to make his community thrive, and also find the inhuman supernatural power fueling his magic.
 I finally got my hands on a copy, and I can't wait to dig in.