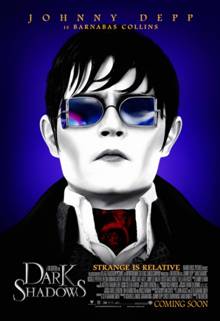 This week saw all sorts of new goodies being released to moisten your pallet for what will surely be two of the upcoming summer movie season's biggest box office draws.
Let's start with Dark Shadows and my assertion that if Barnabas Collins were really in his grave somewhere, he'd probably be spinning like a rotisserie ham.
It's because the original vampire Collins wasn't particularly heartthrob material (and proper vampires really shouldn't be) that I didn't mind some of the initial low-quality stills that came from Tim Burton and Johnny Depp's rewind of the 1960's TV cult classic.
Depp had his hair plastered down and was sporting a seriously pasty complexion.
Okay, fair enough. I did fret ever so slightly about the borderline comical nature of his look but, well, that's just Burton and Depp.
Then on March 16th we finally get the goods: a series of character portraits and a full length trailer of Dark Shadows to hold us over the 55 or so days until its release on May 11th.
Oh joy, oh rapture, oh…. seriously?
A comedy?
---