January/February Fantasy & Science Fiction Magazine now on Sale
January/February Fantasy & Science Fiction Magazine now on Sale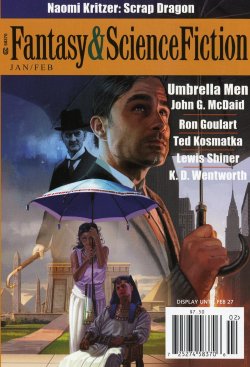 I was very pleased to see Mark Evans, who's published artwork in every issue of Black Gate since 2005, get another cover assignment for Fantasy & Science Fiction. That's his contribution at right, gracing the cover of the Jan/Feb issue. Mark's one of the most talented artists in the field, and it's great to see him get the exposure he deserves. The rest of the issue is pretty impressive as well. Contents include:
NOVELETS
Small Towns – Felicity Shoulders
The Secret of the City of Gold – Ron Goulart
Umbrella Men – John G. McDaid
Alien Land – K.D. Wentworth
Mindbender – Albert E. Cowdrey
The Color Least Used by Nature – Ted Kosmatka
SHORT STORIES
The Comfort of Strangers – Alexander Jablokov
Maxwell's Demon – Ken Liu
Scrap Dragon – Naomi Kritzer
In the Trenches – Michael Alexander
Canto MCML – Lewis Shiner
Lois Tilton at Locus Online reviews the entire issue, including "In the Trenches" by Michael Alexander:
WWI. Hans is a soldier on the German side, near the starving end of the action, when Gamlin the kobold emerges from the trench. He thinks the humans are crazy and Hans doesn't disagree. The kobold takes him far underground where he finds a French soldier, and they immediately make a truce…

An unusual viewpoint on the horrors of war and on being human. The tone is light, but the horrors are genuinely dark. The combination works.
Cover price is $7.50. You can find more details on the issue at the F&SF website. We last covered F&SF here with the November/December issue.