New Treasures: The Scar by Sergey and Marina Dyachenko
New Treasures: The Scar by Sergey and Marina Dyachenko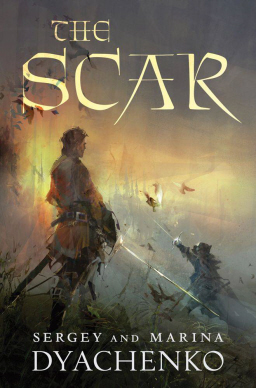 It's been a big week for games. The long-awaited (by me) Lords of Waterdeep has finally landed, and my man Andrew Jones tells me it rocks. Plus, I'm still processing loot from my prolonged auction insanity at last weekend's game orgy.
Of course, this is the week that some terrific new novels arrive in the mail, courtesy of the top publishers in the industry. When they say no rest for the wicked, they're talking about me specifically. Bastards.
So let's get to it. If I can only pick one book to draw your attention to this week (because I'm spending the rest of my time stacking gaming loot in the basement), it would have to be The Scar, by Sergey and Marina Dyachenko.
Why The Scar? 'Cause it's so damn cool, that's why. First is that eye-catching Richard Anderson cover, which said Put down that copy of Cosmic Encounter and pay attention to me, O'Neill, in a commanding Russian accent. Then it leaped on my desk and did a cool Cossack dance.
The Scar is the first English translation for Sergey and Marina Dyachenko, the popular husband and wife team who have achieved tremendous success in Russia. They've received eighty literary prizes for excellence, and The Scar won the "Sword in the Stone" award for best fantasy novel from 1995-1999.
Here's the blurb:
Reaching far beyond sword and sorcery, The Scar is a story of two people torn by disaster, their descent into despair, and their reemergence through love and courage…

Egert is a brash, confident member of the elite guards and an egotistical philanderer. But after he kills an innocent student in a duel, a mysterious man known as "The Wanderer" challenges Egert and slashes his face with his sword, leaving Egert with a scar that comes to symbolize his cowardice. Unable to end his suffering by his own hand, Egert embarks on an odyssey to undo the curse and the horrible damage he has caused, which can only be repaired by a painful journey down a long and harrowing path.
This looks like the remedy I've been looking for, to all the similar-looking urban fantasy volumes piling on my shelves recently. Kudos to Tor for looking far and wide to bring the finest in fantasy to American shores. I'm looking forward to digging in to this one. Check out the book trailer here.