March/April Fantasy & Science Fiction Magazine now on Sale
March/April Fantasy & Science Fiction Magazine now on Sale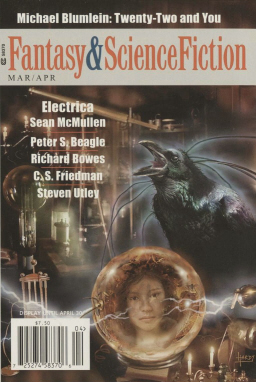 I think I'm a little late with this one, as this issue has maybe been on sale for a few weeks. Tisk, tisk. That's what one little game auction will do to you.
Well, time to catch up.  The March/April issue of Fantasy & Science Fiction Magazine, for those of you who haven't read it already, is packed full of great stuff, including a brand new novelette by the incredible Peter S. Beagle, and short stories from Robert Reed, Steven Utley, Richard Bowes, Geoffrey Landis, Robert Walton and Barry N. Malzberg, C.S. Friedman, and a lot more. Here's the complete fiction TOC:
NOVELETS
"Electrica"  – Sean McMullen
"Twenty-Two and You"  – Michael Blumlein
"Greed"  – Albert E. Cowdrey
"Gnarly Times at Nana'ite Beach"  – KJ Kabza
"Olfert Dapper's Day"  – Peter S. Beagle
SHORT STORIES
"Repairmen"  – Tim Sullivan
"One Year of Fame"  – Robert Reed
"The Tortoise Grows Elate"  – Steven Utley
"The Queen and the Cambion"  – Richard Bowes
"Demiurge"  – Geoffrey Landis
"The Man Who Murdered Mozart"  – Robert Walton and Barry N. Malzberg
"Perfect Day"  – C.S. Friedman
The amazing Lois Tilton has already reviewed the complete issue at Locus Online. Here's what she says about Beagle's contribution, "Olfert Dapper's Day":
Dr Dapper, of no real medical degree, is forced to flee to the New World when his various frauds are revealed to the authorities of Utrecht. In the wilderness, among the comfortless Puritans, he has no alternative but to pose as a medical practitioner. Yet despite himself, he finds wonders and miracles in the wilderness.

A fine and moving fantasy. The author's voice is quite engaging and his protagonist undergoes a memorable metamorphosis.
The cover price is $7.50, for a thick 258 pages. Cover artist this issue is David A. Hardy. More details at the F&SF website, including the complete text of book and film reviews by Charles de Lint, Chris Moriarty, Paul Di Filippo, and Lucius Shepard. We last covered F&SF here with the January/February issue.