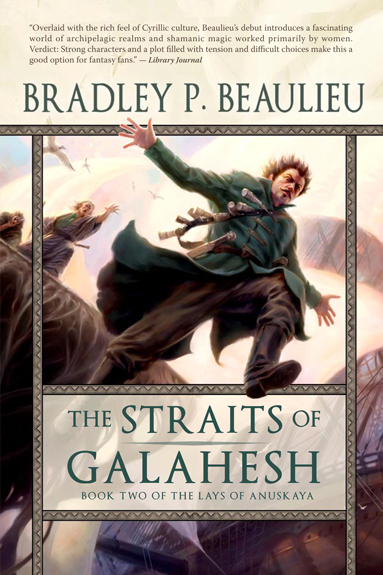 With the release of The Straits of Galahesh imminent (it hits shelves April 3rd), I'm grateful to John O'Neil and Howard Andrew Jones for having me by to share an excerpt. The Straits of Galahesh is the second book in my epic fantasy trilogy, The Lays of Anuskaya. The story picks up five years after the close of the first book, The Winds of Khalakovo. (And by the way, if you don't already have a copy of WINDS, it's available for FREE in the US from the Amazon Kindle Store until the end of the month.)
Here's the cover blurb for STRAITS:
West of the Grand Duchy of Anuskaya lies the Empire of Yrstanla, the Motherland. The Empire has lived at peace with Anuskaya for generations, but with political turmoil brewing and the wasting disease still rampant, opportunists from the mainland have begun to set their sights on the Grand Duchy, seeking to expand their empire.

Five years have passed since Prince Nikandr, heir to the scepter of Khalakovo, was tasked with finding Nasim, the child prodigy behind a deadly summoning that led to a grand clash between the armies of man and elder elemental spirits. Today, that boy has grown into a young man driven to understand his past – and the darkness from which Nikandr awakened him. Nikandr's lover, Atiana, has become a Matra, casting her spirit forth to explore, influence, and protect the Grand Duchy. But when the Al-Aqim, long thought lost to the past, return to the islands and threaten to bring about indaraqiram – a change that means certain destruction for both the Landed and the Landless – bitter enemies must become allies and stand against their horrific plans.

Can the Grand Duchy be saved? The answer lies hidden within the Straits of Galahesh…
I also wanted to let the readers of Black Gate know that I'm holding a giveaway to help promote The Straits of Galahesh. Everyone is welcome to come by and enter. I'm giving away a Kindle Fire or Nook Tablet (winner's choice), a Kindle Touch or Nook Simple Touch (winner's choice), a rare ARC of The Straits of Galahesh, and ten SETS of the first two books in both physical and electronic form. The details, including how to enter, can be found here.
One last item of note, if you enjoy the excerpt below, you can download the first eleven chapters from my website.
So, without further ado, here's the prologue from The Straits of Galahesh.
---