Clarkesworld Issue #66
Clarkesworld Issue #66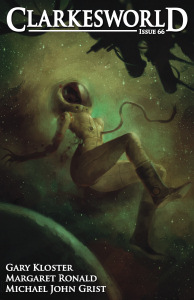 The March  issue of Clarkesworld is currently online. Featured fiction: "Sunlight Society" by Margaret Ronald, "The Bells of Subsidence" by Michale John Grist and "From Their Paws, We Shall Inherit" by Gary Kloster.  Non fiction by E.C. Ambrose, Jeremy L.C. Jones and Neil Clarke.  The cover art is by Sergio Diaz.
All of this is available online for free; there's even an audio podcast version of all three stories read by Kate Baker. However, nothing is really free. The magazine is supported by "Clarkesworld Citizens" who donate $10 or more.
We last covered Clarkesworld with issue #64.