Art of the Genre: Why and how I build a Kickstarter
Art of the Genre: Why and how I build a Kickstarter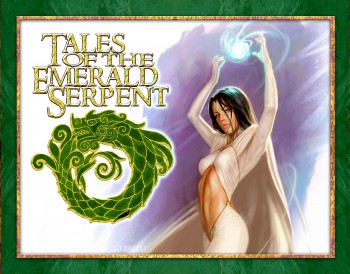 Yes, yes, I'm trying to keep up with my Kickstarter theme each Saturday, but as I'm releasing a new Kickstarter myself, and its progress will be tracked right here on Black Gate at the bottom of my posts, I thought I'd show you what I was thinking as I did it. Keep on sharing the knowledge, you know, because the more people I can help get onto this platform, the better it is for all those already using it. So, here is a run down of what goes on in my head as I start one of these projects.
First, I go back into my 'nostalgia archives' and find something I loved. In this case it was the old-school shared anthology. Considering what it would mean to bring something like this back, especially since I work for a short fiction publisher in Black Gate Magazine, I couldn't resist the temptation.
To do this, however, I needed authors that filled the bill, so I promptly went out and got some, eight to be precise. With these creative folk in the fold, I then created a website to host as a kind of creative sand box for all the authors to help build a world in. I decided we'd start small, inside a single city, and work our way out from there as success allowed.
However, you know me, I couldn't do this without art, so I got an artist to start doing conceptual work on the world using the ideas of the authors and myself. Then, once concept art was in play I found a cover artist who had no peer in the fantasy genre, and signed him on as well. [Note: You would be surprised how much creative people love the thought of working freely on stuff like this, especially after spending the bulk of their time doing what others want instead of what their own creative mind is telling them.]

With such a team in place and a literary concept that hadn't been seen for years on a mass market basis, I raced out to recruit publishers at World Fantasy Con 2011 in San Diego. The response? Go fly a kite, preferably off a cliff…
I heard things like 'anthologies are dead', 'only Rowling, King, or Martin can make a anthology worth it', 'you might get lucky and get one anthology in print, but you'll never see two'. Yep, it was that bad, and being inside the industry I knew why, because print publishing is hanging on by a very thin thread and they have no way to take a risk on anything or allow a book series to grow legs over the long haul because they need big bank success right off the bat.
Having been rebuffed to such a degree I went back to my authors and artists, all now fully invested in what we'd created together, and threw out the word Kickstarter. To a man [or woman in the case of half of them] they agreed that if there was ever a time to test this model and what we'd done, it was now.
So, after some heroic efforts on all their behalf, here is the 'friends' press release for all my readers to take a look at. I truly hope you'll come help us show the publishing industry that there is a place for this type of fiction in today's marketplace. You can find our Kickstarter site here, as well as a banner link in the credits below.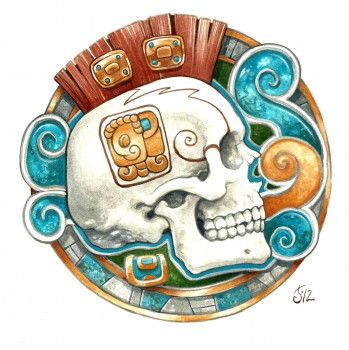 Taking a page from classic early 80s anthologies like Larry Niven's Man-Kzin Wars and Robert Asprin's Thieves World, Beyond the Black Gate: Tales of the Emerald Serpent maintains an old school feel while bringing you some of the latest talent in today's science fiction, fantasy, and horror markets.
Set in Art of the Genre's trademarked universe, The Nameless Realms, this anthology takes readers to the Free City of Taux, a fantasy port of cursed stones, dark plots, and a core of rich characters who share space inside the infamous Black Gate District.
This rich anthology links characters and tales in an interwoven mosaic that helps draw the reader on, and with authors like Lynn Flewelling, Harry Connolly, Juliet McKenna, Martha Wells, Robert Mancebo, and Julie Czerneda sharing characters with newcomer Michael Tousignant and iconic fantasy artist turned writer Todd Lockwood, the book plumbs the depths of dark city-born fantasy.
Editor and contributor R. Scott Taylor helps create the shadowed metropolis of Taux, where Razor Duelists and mailed and heavily armed Sturgeons try to hold back the tide of ghosts, Moon Cultists, and shadow magic that lurks inside the slithering coils of Wizard's Mist. Rogues, harlots, and merchant princes share the same streets, and all watch their backs as the stones of the city call out to the living in a never ending game of cat and mouse for the true ownership of the great port.
Memories of Lankhmar, Sanctuary, and Waterdeep merge in each unfolding tale, and fantasy artists Jeff Laubenstein and Janet Aulisio bring form to each story with their incredible pen and ink renderings. Contributor Todd Lockwood also lends his artistic vision to an epic cover that wraps this project in a package so special it's almost too good to be true.
If you like fantasy, and you remember the days when books sang with slim stories of high adventure and burst with rich illustrations to lend solidity to every epic tale, then Beyond the Black Gate is what you've been longing for.
Kickstarter, a fan funding online site for independent artistic projects run by Amazon, has guidelines that compel project creators to raise the full target funding amount or receive nothing. This all or nothing type of crowd-funding is a dicey proposition, but with a strong supporting fan base Kickstarter is the perfect venue to launch new brands. In the case of the Beyond the Black Gate anthology, it runs in a 30-day window for funding and looks to raise $10,000 for an initial book release, with bonus goals set in place that can fund further books inside the proposed series if backing continues above the initial goal.
---
If you like what you read in Art of the Genre, you can listen to me talk about publishing and my current venture with great artists of the fantasy field here or even come say hello on Facebook here. And here's a view of my current Kickstarter