New Treasures: The Wesleyan Anthology of Science Fiction
New Treasures: The Wesleyan Anthology of Science Fiction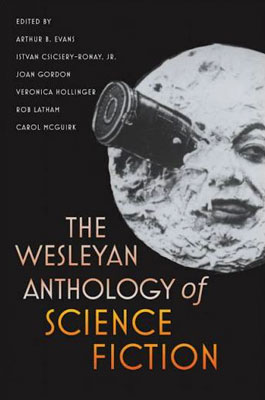 Wow. This may be the finest SF anthology I've ever seen. It's certainly the best I've come across in many years.
Editing an anthology — especially a reprint anthology — is a delicate balancing act. You want to include the very finest stories you can, of course. But you'd prefer not to fill your book with tales your readers have seen a dozen times over.
I'm not sure I've seen a book that manages this as well as The Wesleyan Anthology of Science Fiction. Starting with Nathaniel Hawthorne's "Rappaccini's Daughter" (published 1844) and ending with Ted Chiang's "Exhalation" (2008) it spans 164 years of science fiction publishing, including some of the finest SF stories ever written — Edmond Hamilton's "The Man Who Evolved" (1931), James Patrick Kelly's "Think Like a Dinosaur" (1995) — alongside dozens I've never read. Virtually every major SF and fantasy short fiction writer of the last 164 years is represented, from H. G. Wells, C.L. Moore and Stanley Weinbaum to Samuel R. Delany, Philip K. Dick, Gene Wolfe and Charles Stross.
The Wesleyan Anthology has a grand total of six editors, which tells you right off the bat it's an academic endeavor targeted at libraries and school curriculum. All six are editors for Science Fiction Studies, DePauw University's long-running critical journal, and they do a fine job of introducing the tales. Now, academic anthologies like this usually don't appeal to me. They typically devote a considerable page count to proto-SF of the late 1800s or early 1900s, and that stuff puts my feet to sleep.
Not this time.  By the fifth tale we're already into the 1930s, and the editors pay proper respect to both the Golden Age of SF — the Campbell authors of the 1940s like Asimov and Simak — and the earlier pulp writers of the mid-30s such as Hamilton and Leslie F. Stone. They've even plucked some tales from the pulps that I've never heard of, and that takes some effort.
I first laid eyes on The Wesleyan Anthology at Wiscon last year when SF author Richard Chwedyk showed me his copy with some wonder and amazement. Alice bought me my copy for Christmas, and I've been slowly (very slowly) making my way through it. The Wesleyan Anthology is $39.95 for 787 pages in trade paperback, and is published by Wesleyan University Press. Do yourself a favor and check it out.