Black Gate Interviews Nathan Long, Part Two
Black Gate Interviews Nathan Long, Part Two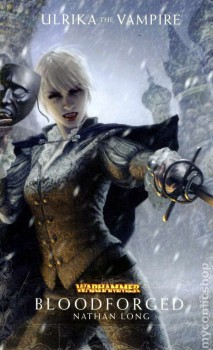 This week Black Gate picks up where we left off in Part One of our interview with fantasy and science fiction author Nathan Long.
Last week we talked about your latest novel, Jane Carver of Waar. But most readers are more familiar with the work you've done in the Warhammer world, where you've published 11 novels to date. How familiar were you with Warhammer and Games Workshop before you began writing for them?
I had worked in a game store in the 80s, just when the first Warhammer Fantasy Role Play rulebook came out, and I had read it cover to cover, though I never played it, so I was pretty familiar with the setting and the mood of the game and the world. I still had a lot of homework to do once they hired me, however. I ended up owning and reading all the army books, all the supplements, etc. Homework should always be that fun.
Tell us a bit about the differences between working in an existing world, versus one entirely of your own creation.
In one way, it's easier, as all your world building has been done for you. It's like being hired to write for a TV show or a long-running comic book. Quite a lot of the world and sometimes the characters have been established, so all you have to worry about is the plot and character. I never really found this limiting. There are an infinite number of stories that can be told in any world, and it was a fun challenge to come up with ideas that fit the feel of the Warhammer setting.
It can be harder when you're asked to put specific bits of the world into specific novels. For instance, when I wrote Tainted Blood, the third Blackhearts novel, my editors wanted it set in a specific city, because they wanted it to tie into a gaming supplement that was coming out for that city. That took a little more work, but it was still fun. Every challenge is an excuse to come up with a cool solution, and I have always loved that kind of game.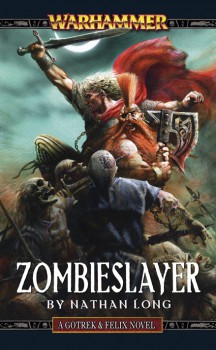 When you took the reins of the long-running Gotrek and Felix series, you found yourself not only working within the parameters of an existing setting and theme, but with characters that had been fan favorites since the late eighties. What were the particular challenges you faced in staying true to this saga while placing your own stamp upon it?
Well, first off, I had to learn the characters and stories backwards and forwards. I read all seven novels twice, back to back, making copious notes, and worked hard with my editors to come up with stories that felt like things Gotrek and Felix would do. It still took me a book or two to get my stride, but I think I managed in the end.
The trick was to try to stay true to the spirit of the characters while writing in my own voice. I knew from the beginning that mimicking William King's writing style wasn't going to cut it. First, I would only end up being a pale imitation of Bill, which would please no-one, and second, I would not be happy if I wasn't speaking with my own voice. It took some doing, and there were some people who didn't like the change, but after a while, it seemed most folks came to enjoy my take on the series and the characters.
Your Ulrika trilogy is also something of a continuation of the Gotrek and Felix series, but this time you are dealing more or less with a 'second act' for a character that goes through a radical transformation — that of becoming a vampire. With pop culture so saturated with vampire lore and imagery — many of it less than what could be considered 'classical' — what was your own approach to writing about a vampire protagonist?
Ulrika was a fascinating character to me, and an opportunity to play with the themes of vampire fiction. In her previous life she had been a nobleman's daughter and a warrior against the forces of Chaos, a genuine monster hunter. So what happens to someone like that when they become a monster? How do they adapt? Do they try to maintain their former morals and world view, or do they give in to their bloodthirsty new nature? The three Ulrika novels are an exploration of that conflict, and my personal favorites of my Black Library novels.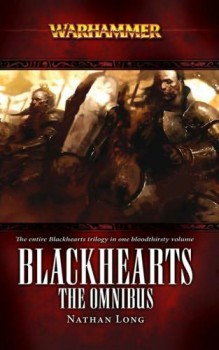 As to whether she is a 'classical' vampire or not, she is a Warhammer vampire. They have very specific rules about their vampires, and the strengths and weaknesses of the various vampire bloodlines, so that was all set for me, I just had to do my homework and follow the rules. That being said, she did end up having most of the traditional vampire weaknesses, sunlight, flowing water, silver. It was fun figuring out how these things challenged her, and how she got around them.
What can we expect to see from you in the future from the Black Library? Any chance of tackling a Warhammer 40,000 novel?
Later this month, the Gotrek and Felix Anthology is coming out, which is a bunch of Gotrek and Felix short stories by various authors. I have two entries in that, a novella entitled Slayer's Honour, and a short called The Two Crowns of Ras Karim. Then in May, the third Ulrika novel, Bloodsworn, is coming out.
After that, I'm not sure. I do have some ideas bubbling in the back of my brain, but we're still talking about what I should do next.
Next week our interview with Nathan will conclude with a conversation about his writing process.
---
Nathan Long is a screen and prose writer, with two movies, one Saturday-morning adventure series, and a handful of live-action and animated TV episodes to his name, as well as ten fantasy novels and several award-winning short stories.
He hails from Pennsylvania, where he grew up, went to school, and played in various punk and rock-a-billy bands, before following his writing dreams to Hollywood – where he now writes novels full time – and still occasionally plays in bands.
His latest novel is Jane Carver of Waar, now available from Night Shade Books. Visit his blog at www.sabrepunk.com.