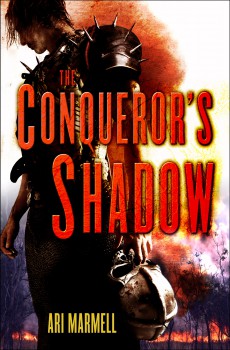 The Conqueror's Shadow
Ari Marmell
Spectra/Ballantine (480 pages, $7.99, mass market edition December 2010)
Reviewed by John Ottinger III
The Conqueror's Shadow is Ari Marmell's first wholly original novel. Though published three times before under the Dungeons & Dragons trademark (Agents of Artifice, Gehenna: The Final Night), this is the first fiction Marmell has produced without a shared world. What results is a mix of epic fantasy and sword and sorcery tropes slanted slightly, ringed around with humor, peopled with not-good but not-really-evil characters, with a setting that Marmell says, "drew on all the traditional sources of fantasy. There is some historical Western Europe, some D&D, a sprinkling of Eddings and Feist." The end result is a fast-paced epic adventure bursting with riotous humor and likable characters.
Oddly, the story begins at its ending, or at least seemingly so. Corvis Rebaine, the Terror of the East, has conquered Denathere, a key city in the Impahallion Empire. But Rebaine makes a tactical error, and he won't be able to hold the city against the combined might of the empire's armies and the private armies of the Guilds. So Corvis flees, taking along as hostage the young noblewoman Tyannon, leaving his own armies to be defeated. Skip forward seventeen years, and Rebaine has settled down into the life of farmer with his wife Tyannon. All is well, until Rebaine's two young children are threatened by the roving marauders of a new warlord, Audriss, who follows the exact same battle plan Rebaine once devised. The now middle-aged ex-warlord gathers old compatriots from his glory days to end the threat to his new life, family, and the very empire he once tried to destroy.
---