Interzone #238: It's All the Cards
Interzone #238: It's All the Cards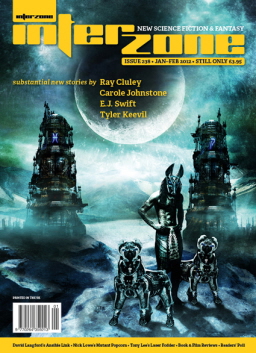 Ben Baldwin gets dibs as the cover artist for Interzone in 2012.  In his guest editorial, Baldwin explains his intention to foci "around the imagery and symbolism of some of the Major Arcana of the tarot deck."  For the January-February issue, the subject  is The Moon.
This issue's fiction includes "Fata Morgana" by Ray Cluley, ""Fearful Symmetry by Tyler Keevil, "God of the Gaps" by Carole Johnstone and "The Complex" by E.J. Swift along with the usual departments and columns.
Further details on this issue can be found on the Interzone web site.