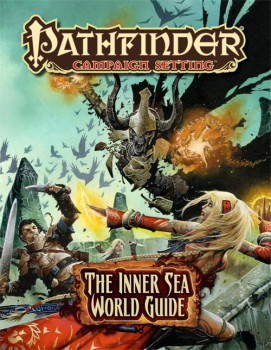 My very first campaign setting, as probably the bulk of old time gamers would also claim, was The World of Greyhawk. I still have great nostalgia for that world, and the classic adventure modules set in it, but sometimes you just need to upgrade, you know? I mean, Greyhawk is over thirty years old, and has gone through a number of facelifts, but still it's always nice to try on something new.
And speaking of new! How about Paizo's Pathfinder Campaign Setting The Inner Sea World Guide. I mean the name alone is worth the price! I'm not sure when the first time I saw this book, but I know when I did I WANTED IT!
Pathfinder is already an outstanding supplemental system, with a massive amount of core books, adventure paths, and gazetteers, but if you're looking for a new age setting or simply want to steal some quality ideas for your own world, this book is an incredible resource.
As I delved into the pages it was like opening a Pandora's Box of fantasy grandeur. The book begins with a nice expansion of the races of The Inner Sea, and like Iron Kingdoms did some years back for their setting, Paizo defines twelve different human races before delivering a nice history on the usual suspects like elves, dwarves, and the like.
I was intrigued by this kind of detail, and as I flipped through the different races I couldn't help by smile at those chosen and the great adventures that could be set in a country populated by these individuals.
---