Vintage Treasures: Poseidonis by Clark Ashton Smith
Vintage Treasures: Poseidonis by Clark Ashton Smith

Poseidonis (Ballantine Adult Fantasy #59, July 1973). Cover by Gervasio Gallardo
I've been collecting Clark Ashton Smith recently, and I keep coming back to the wonderful Ballantine Adult Fantasy editions edited by Lin Carter in the early 70s.
It's not nostalgia (well, maybe it's a little nostalgia). And it's certainly not that the stories aren't available in other editions — Smith's work has been annotated and collected by more than half a dozen publishers this century alone, including Night Shade, Penguin Classics, Hippocampus Press, Prime Books, Bison Books, Centipede Press, and others. It's not even the great cover art — great as it is (and it's pretty darn great), Smith has benefitted from some truly excellent cover art for most of his reissues.
What draws me to these editions is Lin Carter's excellent commentary and editorials. When Carter was assembling these books in the early seventies most of Smith's work was long out of print, available only in moldering pulp magazines (and a handful of expensive hardcovers from Arkham House), and Carter was introducing one of the greatest pulp writers of the 20th Century to an audience that was woefully unfamiliar with his work. He did a fabulous job of preparing readers for the wonders that awaited them.
[Click the images to sink below the waves with bigger versions.]

More recent Smith editions: Out of Space and Time (Bison Books, October 2006), The Return of the Sorcerer
(Prime Books, October 2009), and The Averoigne Chronicles: The Complete Averoigne Stories of Clark
Ashton Smith (Hippocampus Press, January 2021). Covers by Stasys Eidiejus, Peter Bergting, and David Ho
Lin Carter considered Clark Ashton Smith to be the greatest of the Weird Tales writers, and indeed, "one of the greatest fantasy geniuses of all literature."
Here's an excerpt from his introduction to Poseidonis, Smith's collection of tales of lost Atlantis.
Of all the many writers who contributed to the Golden Age of Farnsworth Wright's magazine Weird Tales, Clark Ashton Smith stands out as a clearly superior talent. To my own taste, he is far and away a better writer than his good friends and correspondents Robert E. Howard and H.P. Lovecraft. Howard's stories have excitement and gusto and driving narrative force, but Howard was clumsy with coined names and his tales are grim and humorless. Lovecraft had great imaginative gifts, but he was unable to create viable characters or write credible dialogue. and completely unable to create women.

Their Californian colleague, however, shared few of their emotionally crippling hang-ups and could write rings around them both. Smith mastered a bedizened lapidary style that savors of Vathek and Salamnbi; he wrote with a lazy, mocking, sardonic humor that I find delicious; his tales are ornamented with exotic words and coined names as magical and evocative as the best of Dunsany's. He seems to me not only the best of the Weird Tales writers, but one of the greatest fantasy geniuses of all literature, ranking not far beneath Eddison and Dunsany.

What is most incredible of all is that his entire fantasy reputation rest on slightly more than one hundred short stories. almost all of which he wrote between 1929 and 1935. In that brief span of only six year he created a series of masterworks that are among the most precious jewels of weird fantasy we possess… [he] added new richness and luster to the legend of Atlantis, whose dark and virile magic continues to enthrall the imagination.
Poseidonis contains all of Smith's tales of Atlantis, including three Poseidonis tales and two poems, plus two stories in his Malygris sequence, featuring the dark sorcerer Malygris, who abides in "his tower that was builded on a conical hill above the heart of Susran, capital of Poseidonis."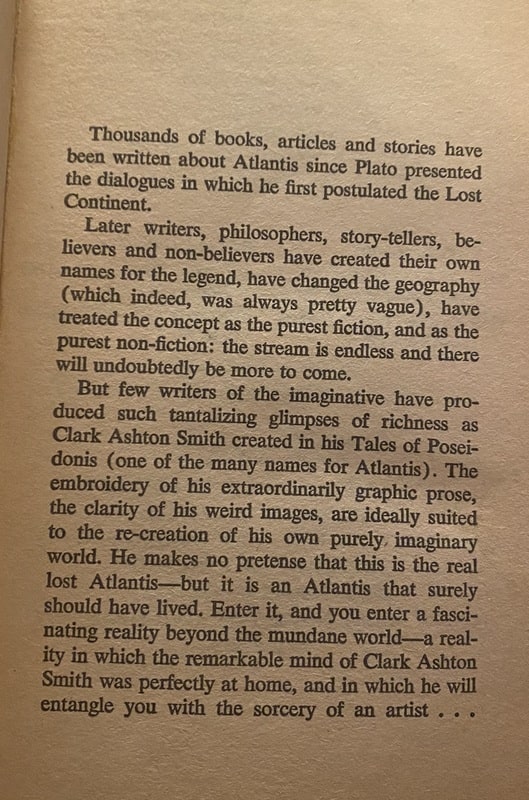 Inside cover of Poseidonis
Gilbert Stack has a fine one-paragraph review of the audio version of the short story "The Death of Malygris," included in Poseidonis.
One of the things that stands out about Clark Ashton Smith's short stories is that there are often no good guys to be found in the pages. In this excellent story, a great necromancer has died — or has he? As other magical powers seek to confirm Malygris' demise and to profit from it, they continue to run afoul of his nefarious preparations to punish people who try to do precisely that. This is a story about watching bad things happen to bad people. On its own, it's quite creepy, but with William L. Hahn's narrative talents, it is far more insidious than that — so much so that you'll be looking twice next time you drive past a cemetery.
But the person who's done the best scholarship on these stories is, in my opinion, Ryan Harvey, who explored Smith's work in a series of superb articles for Black Gate over a decade ago. Here's his introduction to Part IV of the series, Poseidonis, Mars, And Xiccarph, from 2007.
The lands of Averoigne, Hyperborea, and Zothique comprise the bulk of the Northern Californian author's fantasy stories, but a few "mini-cycles" of two to five tales each also emerged during his most active period of fiction-writing in the early 1930s. Smith may have planned to expand these series into full cycles large enough for book publication, as he attempted with Zothique and Hyperborea. Internal references in this handful of tales, such as the recurring figure of Malygris in the Poseidonis stories and Maal Dweb in both Xiccarph chronicles, indicate that their creator was attempting to weave a unified backdrop for further works — except that the later works never emerged.

The three most important mini-cycles occur on a remnant of sinking Atlantis called Poseidonis, a human-colonized Mars containing ancient horrors from its primordial past, and the mysterious planet of Xiccarph. The Poseidonis stories resemble the style of the Zothique cycle in their doomed terrestrial environment. The other two mini-cycles take place in interplanetary settings that would normally fall under the aegis of science fiction. Smith did pen a number of straight science-fiction works like "The Master of the Asteroid" and "An Adventure in Futurity," but the tales of Mars and Xiccarph have more in common with dark fantasy than the space opera of the early 1930s. Smith's adept melding of science fiction, fantasy, and horror in these two planetary settings offers a fascinating view of his genre-blurring style.
Here's Ryan on one of the more famous stories in the collection, "The Double Shadow."
The events of this story, one of Smith's finest, occur two generations after the wizard Malygris ruled Susran with his necromantic terror. Malygris's final surviving pupil, Avyctes, has withdrawn from the world to content himself with scholarly studies in a marble mansion above the sea. His own student, Pharpetron, narrates the tale of the fate that befalls them when they unlock the magical secrets of a tablet of the extinct serpent-men that washes ashore near the mansion. After unraveling the cipher on the tablet, the two sorcerers use it to cast a summoning spell. The invocation appears to fail, but a few days later Pharpetron notices a second shadow tailing behind his master's own: "its form was altogether monstrous, having a squat head and a long undulant body, without similitude to beast or devil." Worse, the new shadow seems to creep closer to Avyctes' real shadow with each day.

The power of the "The Double Shadow" comes from its clever magical curse that creates a tangible creeping doom and its excellent word-wizardry that shows the author doing what he does best: weaving literary magic with a perfectly selected choice of weird words. In lesser works, Smith could go over the top with his heapings of obscure diction, acting like someone flaunting his knowledge "Thesaurophical" (if you pardon me inventing a word). But when his muse was at its strongest and most inspired, he could create a work like "The Double Shadow," which ensnares readers in otherworldliness from its opening and then sustains it without ostentatious distraction.

Although it does not directly deal with the fall of Poseidonis, the imagery of a "ravening" and destructive sea is potent in "The Double Shadow." The writing keeps readers constantly reminded that Avyctes' mansion lies perched over turbulent waters, and this instability heightens the tension and keeps the doom of Poseidonis at the forefront of a story of personal doom.
Read Ryan's thoughts on the entire story cycle here.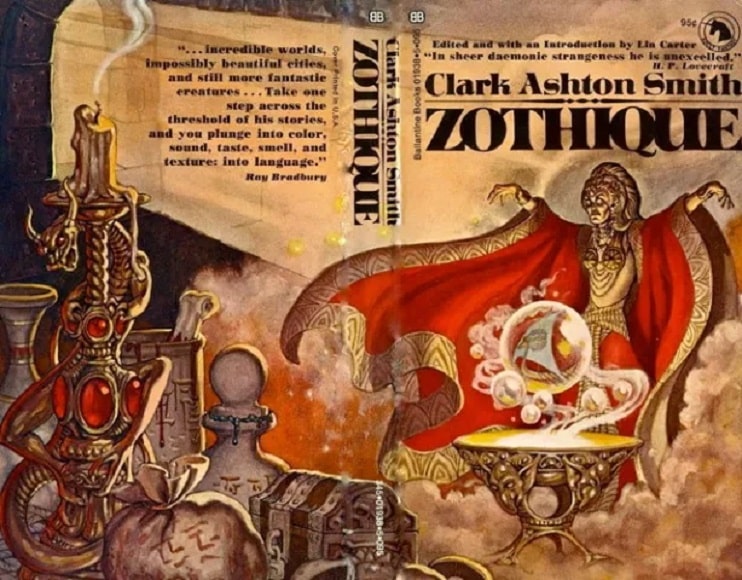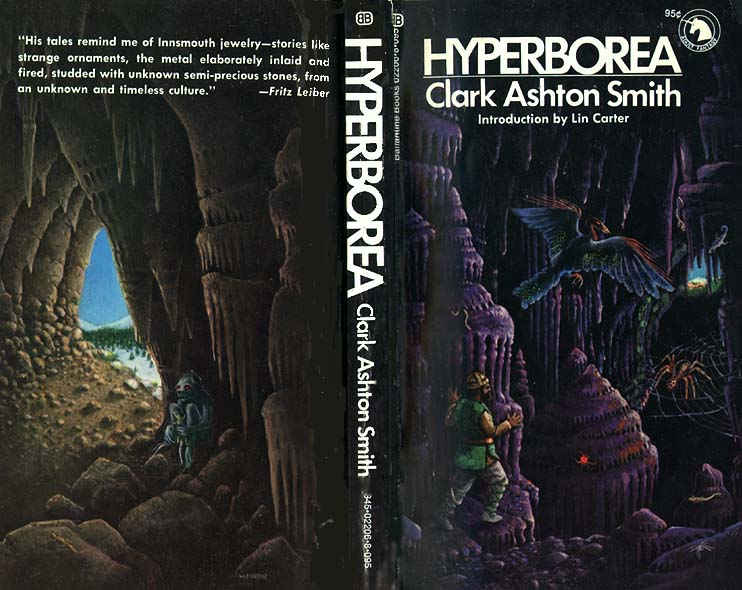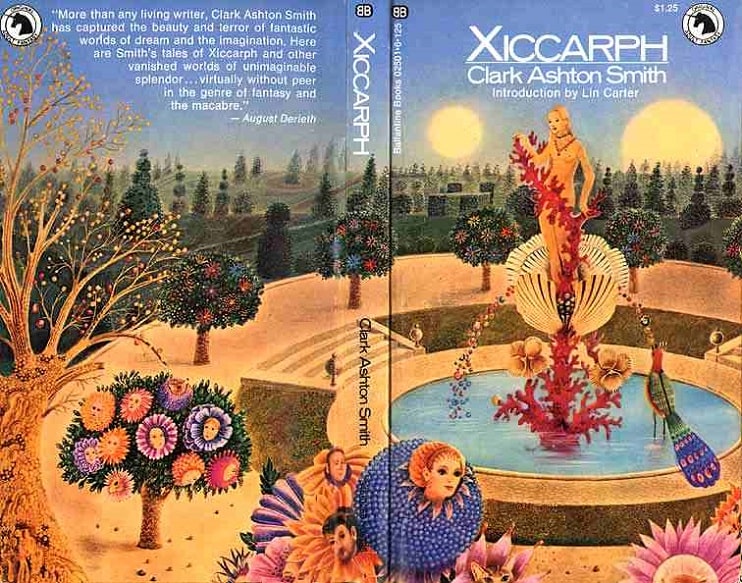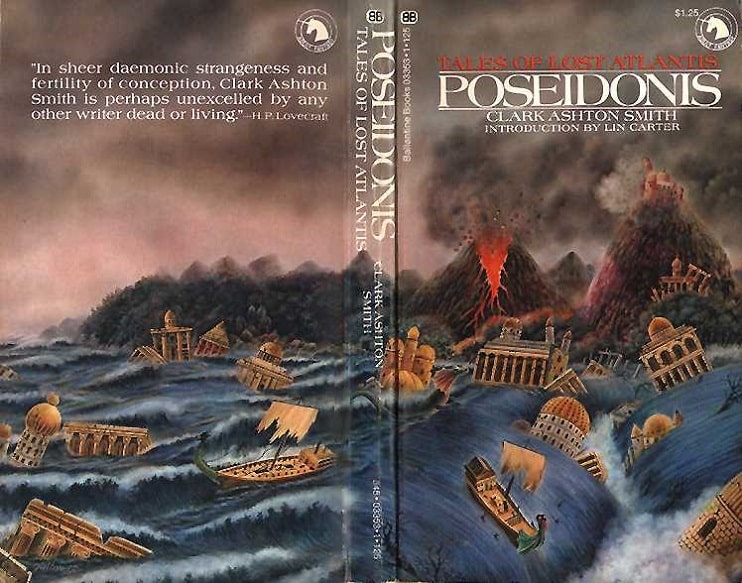 All four Clark Ashton Smith collections published by Lin Carter for Ballantine
Adult Fantasy: Zothique, Hyperborea, Xiccarph, and Poseidonis (1970 – 1973).
Covers by George Barr, Bill Martin, Gervasio Gallardo, and Gervasio Gallardo
Lin Carter published four collections of Clark Ashton Smith's fantasy as part of the Ballantine Adult Fantasy library:
Zothique (286 pages, $0.95 in paperback, June 1970) — cover by George Barr
Hyperborea (221 pages, $0.95 in paperback, April 1971) — cover by Bill Martin
Xiccarph (247 pages, $1.25 in paperback, February 1972) — cover by Gervasio Gallardo
Poseidonis (210 pages, $1.25 in paperback, July 1973) — cover by Gervasio Gallardo
Like many of Clark's older editions, prices for these paperbacks have been steadily creeping upwards. They hovered around ten bucks each for much of the last decade, but they average two to three times that today, and good condition copies of Zothique — the hardest to come by these days — will run you $40-80.
Here's the complete TOC for the Ballantine edition of Poseidonis, including Carter's essays scattered through the text.
The Magic of Atlantis, by Lin Carter
An Editor's Note, by Lin Carter
The Muse of Atlantis — poem
"The Last Incantation" (Weird Tales, June 1930)
"The Death of Malygris" (Weird Tales, April 1934)
Tolometh (1958) — poem
"The Double Shadow" (The Double Shadow and Other Fantasies, 1933)
"A Voyage to Sfanomoë" (Weird Tales, August 1931)
"A Vintage from Atlantis" (Weird Tales, September 1933)
Atlantis (1912) — poem
Editor's Note 2, by Lin Carter
In Lemuria (1921) — poem
"An Offering to the Moon" (Weird Tales, September 1953)
"The Uncharted Isle" (Weird Tales, November 1930)
Lemurienne (1971) — poem
Editor's Note 3, by Lin Carter
"The Epiphany of Death" (The Fantasy Fan, July 1934)
Editor's Note 4, by Lin Carter
In Cocaigne (1922) — poem
"Symposium of the Gorgon" (Fantastic Universe, October 1958)
"The Venus of Azombeii" (Weird Tales, June-July 1931)
The Isle of Saturn (1951) — poem
"The Root of Ampoi" (The Arkham Sampler, Spring 1949)
"The Invisible City" (Wonder Stories, June 1932)
Amithaine (1951) — poem
"The Willow Landscape" (The Philippine Magazine, May 1931)
The Shadows (1922) – poem
It's possible we've written more about Clark Ashton Smith at Black Gate than any other writers except Tolkien, Robert E. Howard, and H.P. Lovecraft. Our previous coverage includes:
Vintage Treasures: The City of the Singing Flame by Clark Ashton Smith
The Ordinary is Ephemeral: Robert E. Howard, Clark Ashton Smith, H.P. Lovecraft, and the Battle Against Modernism, by David C. Smith
Adventure and Tragedy on a Far Future Earth: Keith West on Zothique by Clark Ashton Smith
Literary Wonder & Adventure Podcast: Clark Ashton Smith, Poet of the Fantastic
Birthday Reviews: Clark Ashton Smith's "The Maze of Maal Dweb" by Steven H Silver
Starfinder Alien Archive — Clark Ashton Smith Meets Douglas Adams (With Visuals by Ray Harryhausen) by M Harold Page
A Jaunt Through Clark Ashton Smith's Collected Fantasies — Vol. 1: The End of the Story, by Ryan Harvey
A Jaunt Through Clark Ashton Smith's Collected Fantasies — Vol. 2: The Door to Saturn, by Ryan Harvey
A Jaunt Through Clark Ashton Smith's Collected Fantasies—vol. 3: A Vintage from Atlantis, by Ryan Harvey
The End Of The Story: The Collected Fantasies, Vol. 1 by Clark Ashton Smith
Vintage Treasures: The Timescape Clark Ashton Smith
The Shade of Klarkash-Ton by James Maliszewski
One Shot, One Story: Clark Ashton Smith by Thomas Parker
New Treasures: The Dark Eidolon and Other Fantasies by Clark Ashton Smith
The Crawling Horrors of Mars: Clark Ashton Smith's "The Vaults of Yoh-Vombis"
Deepest, Darkest Eden edited by Cody Goodfellow by Fletcher Vredenburgh
Adventures in Stealth Publishing: The Return of the Sorcerer
A Few Words on Clark Ashton Smith by Matthew David Surridge
The Unqualified Unique: The Daily Mail Interviews Me for Clark Ashton Smith's 50th Morbid Anniversary by Ryan Harvey
Of Secret Worlds Incredible: A Psychedelic Journey into Clark Ashton Smith's Poetic Masterpiece by John R. Fultz
The Fantasy Cycles of Clark Ashton Smith Part I: The Averoigne Chronicles by Ryan Harvey
The Fantasy Cycles of Clark Ashton Smith Part II: The Book of Hyperborea by Ryan Harvey
The Fantasy Cycles of Clark Ashton Smith Part III: Tales of Zothique by Ryan Harvey
The Fantasy Cycles of Clark Ashton Smith Part IV: Poseidonis, Mars, and Xiccarph by Ryan Harvey
The Return of the Sorcerer: Falling Under Clark Ashton Smith's Potent Spell for the First Time by Brian Murphy
See all our recent Vintage Treasures here.