New Treasures: The Dark Eidolon and Other Fantasies by Clark Ashton Smith
New Treasures: The Dark Eidolon and Other Fantasies by Clark Ashton Smith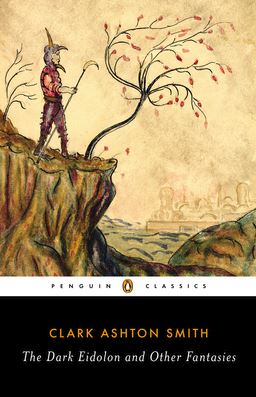 At long last, Clark Ashton Smith gets a little respect.
The highly regarded Penguin Classics line — which scholars and teachers love to rely on when drawing up things like course reading lists — has been slow to embrace pulp writers, and especially pulp fantasy writers. But in the last decade or so they've been correcting that oversight, starting with Lovecraft (The Call of Cthulhu and Other Weird Stories, Oct. 1999, The Thing on the Doorstep and Other Weird Stories, Oct. 2001, and more.) They've done a little better with other fantasy writers, including Lord Dunsany (In the Land of Time: And Other Fantasy Tales, February 2004), Arthur Machen, Shirley Jackson, M. R. James, and others.
Much of this has been the result of the efforts of editor S.T. Joshi, who now brings Penguin Classics their very first pulp sword & sorcery collection, gathering together the best work of the great Clark Ashton Smith.
Called "unexcelled by any other writer, dead or living" by H.P. Lovecraft, Clark Ashton Smith, a prolific poet, amateur philosopher, bizarre sculptor, and unmatched storyteller, simply wrote like no one else. Now, The Dark Eidolon and Other Fantasies, the much-awaited collection of poetry and prose from Clark Ashton Smith, introduces him into the Classics as a cosmic master artist who saw horror and wonder in all things, and in whose pen note a single sentence was safe.

This collection of his very best tales and poems, selected and introduced by supernatural literature scholar S.T. Joshi, allows readers to encounter Smith's visionary brand of fantastical, phtantasmagorical worlds, each one filled with invention, terror, and a superlative sense of metaphysical wonder. The volume's title story — a revenge tale that ends with macrocosmic stallions returning to trample a house they had formerly spared — is set in Smith's Zothique story circle, in which the last inhabited continent on Earth watches humanity at the end-time regress to a pre-modern state.
The Dark Eidolon and Other Fantasies was published by Penguin Books on March 25. It is 370 pages — including 32 pages of Explanatory Notes on the stories by Joshi — and priced at $16 in trade paperback and $9.99 for the digital edition.
Our other coverage of Clark Ashton Smith includes:
New Treasures: The End of the Story: The Collected Fantasies, Vol. 1 by Clark Ashton Smith
Vintage Treasures: The Timescape Clark Ashton Smith
The Shade of Klarkash-Ton by James Maliszewski
One Shot, One Story: Clark Ashton Smith by Thomas Parker
New Treasures: The Dark Eidolon and Other Fantasies by Clark Ashton Smith
The Crawling Horrors of Mars: Clark Ashton Smith's "The Vaults of Yoh-Vombis"
Deepest, Darkest Eden edited by Cody Goodfellow by Fletcher Vredenburgh
Adventures in Stealth Publishing: The Return of the Sorcerer
A Few Words on Clark Ashton Smith by Matthew David Surridge
The Unqualified Unique: The Daily Mail Interviews Me for Clark Ashton Smith's 50th Morbid Anniversary by Ryan Harvey
Of Secret Worlds Incredible: A Psychedelic Journey into Clark Ashton Smith's Poetic Masterpiece by John R. Fultz
The Fantasy Cycles of Clark Ashton Smith Part I: The Averoigne Chronicles by Ryan Harvey
The Fantasy Cycles of Clark Ashton Smith Part II: The Book of Hyperborea by Ryan Harvey
The Fantasy Cycles of Clark Ashton Smith Part III: Tales of Zothique by Ryan Harvey
The Fantasy Cycles of Clark Ashton Smith Part IV: Poseidonis, Mars, and Xiccarph by Ryan Harvey