Vintage Treasures: The Timescape Clark Ashton Smith
Vintage Treasures: The Timescape Clark Ashton Smith
Clark Ashton Smith is one of the greatest pulp writers of all time, and certainly one of the greatest early fantasy writers. Over a century after his first collection appeared (The Star-Treader and Other Poems, in 1912) virtually all of his work is still in print. That's an extraordinary statement.
Of course, when I say "in print," I mean it's available in an assortment of limited edition hardcovers and trade paperbacks from Night Shade Books, Prime Books, Penguin Classics, and others. Meaning the majority of volumes are priced chiefly for the collector. There hasn't been a mass market edition of Clark Ashton Smith in over three decades, since Pocket Books' Timescape imprint released a handsome three-volume paperback collection of his most popular stories between 1981 and 1983.
The City of the Singing Flame (1981)
The Last Incantation (1982)
The Monster of the Prophecy (1983)
[Click on any of the images for bigger versions.]
These were the books that introduced me to Clark Ashton Smith, with their gorgeous Rowena covers, and their delightful quotes on the back from Jack Vance, H.P. Lovecraft, Fritz Leiber, and Harlan Ellison. All three volumes had introductions by Donald Sidney-Fryer.
Sadly, the Timescape imprint was shut down in 1985, and the volumes were never reprinted. Although virtually all of CAS's short fiction is in print today, these volumes are still highly sought by collectors, chiefly for nostaligic reasons. The first two are relatively easy to find, but for whatever reason, The Monster of the Prophecy is a little harder. If you're a CAS collector, expect to pay more for that one.
Here's the publishing deets.
The City of the Singing Flame (August 1981, 240 pages, $2.95, cover by Rowena Morrill)
The Last Incantation (August 1982, 262 pages, $2.95, cover by Rowena Morrill)
The Monster of the Prophecy (April 1983, 238 pages, $2.95, cover artist unknown)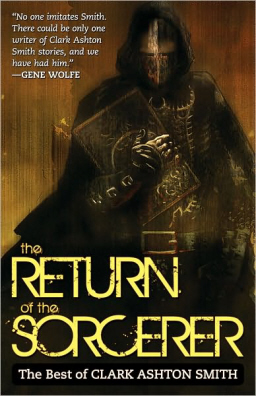 I'm delighted, of course, that so much of Smith's work is widely available. But, in my experience, when an author disappears from bookstores because there are no mass market editions, that's the last stage before total obscurity. The only folks reading and buying CAS today are those of us who were exposed to him in our youth, three decades ago.
There are publishers — like Bison and Prime Books — working hard against that trend by publishing inexpensive trade paperback editions of some of CAS's most popular works, like Prime's The Return of the Sorcerer: The Best of Clark Ashton Smith. They deserve our support, and I hope their efforts are enough to keep Smith's work alive for another generation.
Our other coverage of Clark Ashton Smith includes:
New Treasures: The End of the Story: The Collected Fantasies, Vol. 1 by Clark Ashton Smith
Vintage Treasures: The Timescape Clark Ashton Smith
The Shade of Klarkash-Ton by James Maliszewski
One Shot, One Story: Clark Ashton Smith by Thomas Parker
New Treasures: The Dark Eidolon and Other Fantasies by Clark Ashton Smith
The Crawling Horrors of Mars: Clark Ashton Smith's "The Vaults of Yoh-Vombis"
Deepest, Darkest Eden edited by Cody Goodfellow by Fletcher Vredenburgh
Adventures in Stealth Publishing: The Return of the Sorcerer
A Few Words on Clark Ashton Smith by Matthew David Surridge
The Unqualified Unique: The Daily Mail Interviews Me for Clark Ashton Smith's 50th Morbid Anniversary by Ryan Harvey
Of Secret Worlds Incredible: A Psychedelic Journey into Clark Ashton Smith's Poetic Masterpiece by John R. Fultz
The Fantasy Cycles of Clark Ashton Smith Part I: The Averoigne Chronicles by Ryan Harvey
The Fantasy Cycles of Clark Ashton Smith Part II: The Book of Hyperborea by Ryan Harvey
The Fantasy Cycles of Clark Ashton Smith Part III: Tales of Zothique by Ryan Harvey
The Fantasy Cycles of Clark Ashton Smith Part IV: Poseidonis, Mars, and Xiccarph by Ryan Harvey
See all of our recent Vintage Treasures here.