The Public Life of Sherlock Holmes: What to Write About?
The Public Life of Sherlock Holmes: What to Write About?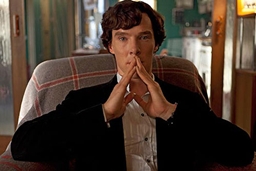 For the past 76 Monday mornings, The Public Life of Sherlock Holmes has appeared here at Black Gate. I've written a couple other posts, but this column is why they keep me around. Well, that and I work for free.
Most of my posts involve (a little or a lot of) re-reading. Which means that more often than I would like, what I want to post on a particular Monday isn't ready to go. For example, I've read ten books and watched one tv pilot for a post on Erle Stanley Gardner's 'Cool and Lam' private eye books (fantastic stuff). And I still need to read more.
And I've listened to at least six dozen radio shows for posts on Yours Truly, Johnny Dollar, The Fat Man and Box 13: with more listening to go. So, for this week's post, I thought I'd talk about some of the subjects that I have started digging into, but which I'm not ready to tackle yet:
Sherlock Holmes A to Z – A post that's going to include at least one recommended author, movie or book title for every letter of the alphabet (this is a fun one).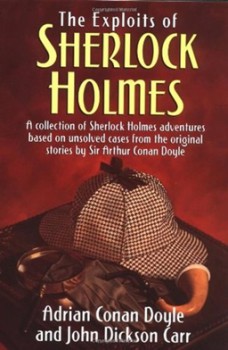 Sherlock Holmes & Joseph Campbell – What I've got is FAR too long for a Black Gate post, but years ago, I took Holmes' career and fit it into Campbell's Hero Cycle. And I don't mean Chris Vogler's screenwriting version: I'm talking about the actual Monomyth from Hero With a Thousand Faces.
A Study in Terror – I did a post on Murder by Decree. I actually prefer the "other" Holmes vs. the Ripper film, starring John Neville.
The Sign of Four on Screen – Easily the best adapted of the four Holmes novellas. Versions by Arthur Wontner, Ian Richardson and Jeremy Brett are excellent. Peter Cushing's version is good, though Matt Frewer's comes up short. Although, after posting this, I remembered that I didn't mind the changes to the story, and that Frewer's performance is better than it was in his Hound. Still some big holes, but an improvement. So I don't mind the Frewer version over all.
Granada's The Return of Sherlock Holmes – I enjoyed putting together the three-part look at Jeremy Brett's Adventures, and the follow up series is definitely on the way.
The Exploits of Sherlock Holmes – Doyle's son, Adrian, tried his hand at succeeding his dad.
Oscar Slater – I already posted about Arthur Conan Doyle and George Edalji. Doyle also fought for (and got) justice for a far less sympathetic man.
Solar Pons, Solar Pons, Solar Pons – I actually started work on a new post that isn't ready yet, but you're definitely going to be seeing more about the 'Sherlock Holmes of Praed Street.' You read this and this and this, right?
Clive Merrison's Holmes Radio Show – When I write Holmes, it is Clive Merrison's voice I hear. A superb dramatization of the Canon; and more.
Holmes' Contemporaries – A look at other Victorian Era detectives, like Martin Hewitt.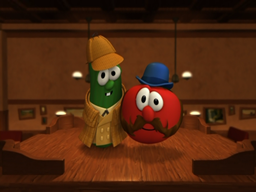 Veggie Tales – This Christian animated series included a Sheerluck Holmes episode and book, as well as take-offs of Indiana Jones (Minnesota Cuke), Star Trek (The U.S.S. Apple Pie), Lord of the Rings (Lord of the Beans) and The Wizard of Oz (The Wizard of HAs), to name just a few.
Big Red/Old Red – Steve Hockensmith's series about a cowboy (and his sidekick brother) who uses Holmes' methods to solve crimes is a favorite of mine. It's a fun twist on the Holmes pastiche.
Barker & Lewellyn – Will Thomas' Victorian mysteries about Barker and Lewellyn are as good as Doyle's Holmes tales and a great series.
Joe Gores – His stories about the Daniel Kearney Agency (a repo company) are among the best hardboiled yarns in the post-pulp era.
Old Time Radio – I did a Richard Diamond post earlier this year. As I mentioned earlier, other shows are coming.
Wade Miller's Max Thursday – Bob Wade and Bill Miller wrote six excellent San Diego based hardboiled private novels set in post-World War II. I'm a big fan.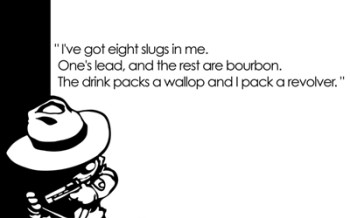 Tracer Bullet – I don't know how I'm going to do this, but I'd like to write about Bill Watterson's private eye arcs from Calvin and Hobbes.
Lester Dent's Master Formula – Prolific pulpster Dent devised a method for writing 6,000 word pulp stories. Michael Moorcock used a modified version for years.
Hammett and Conan – John Maddox Roberts' Conan the Rogue is my favorite Conan pastiche. And it draws heavily on Red Harvest, which is my favorite Dashiell Hammett story (well, maybe tied with The Maltese Falcon).
"The God in the Bowl" – The third Conan story was actually a police procedural.
Peter Kane – Hugh B. Cave is an under-appreciated master of the weird tale. He wrote seven stories about drunkard Boston private eye Kane. I think they're better than Carroll John Daly's works and Mickey Spillane's Mike Hammer.
Nero Wolfe – I did one piece on Wolfe and since it's my favorite series of them all, there's more coming.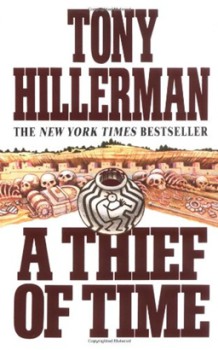 Leaphorn and Chee – Tony Hillerman's series about the Navajo Tribal Police is simply superb. One of my favorites.
Book Reviews – I'd like to do some single book reviews, like Glen Cook's latest Garrett, PI (which you know about from this, right?) novel, or John D. MacDonald's Judge Me Not. If you read this, you know John MacD is my favorite author of them all.
Flaxman Low – Carnacki is often referred to as the first occult detective. Or touted as the first popular one. Nope: Low had him beat by a couple years.
Pathfinder Adventure Card Game: Rise of the Runelords – My favorite board/card game.
Dungeon! – A great board game for introducing kids to the Role Playing Game world.
Tolkien's Nauglamir – The story of the Necklace of the Dwarves, from The Silmarillion, could be an entire novel unto itself.
Bogie & George Raft – You cannot believe how many bad decisions Raft made which led to Bogart becoming a superstar. Seriously.
PulpFest 2015 – I had a fun day two weekends ago at this gathering here in Columbus, Ohio.
If I just wrote those ideas up, I'd have over seven months of posts covered.
And there are things I'd like to write about that I haven't given much more than a thought to yet, like Lawrence Block's Keller the hit man series, PN Elrod's Jack Fleming vampire series, Fred Saberhagen's two Holmes-Dracula novels, James Lee Burke's Dave Robicheaux, Dennis L. McKiernan's Mithgar and a dozen more I could list.
Tomorrow, I'll probably think of three more things to add. But there is definitely no shortage of ideas for future posts. Possibly a shortage of expertise, but certainly not of things to write about.
---
You can read Bob Byrne's 'The Public Life of Sherlock Holmes' column here at Black Gate every Monday morning.
He founded www.SolarPons.com, the only website dedicated to the 'Sherlock Holmes of Praed Street' and blogs about Holmes and other mystery matters at Almost Holmes.
His "The Adventure of the Parson's Son" is included in the largest collection of new Sherlock Holmes stories ever published.