Future Treasures: The Desert and the Blade by S.M. Stirling
Future Treasures: The Desert and the Blade by S.M. Stirling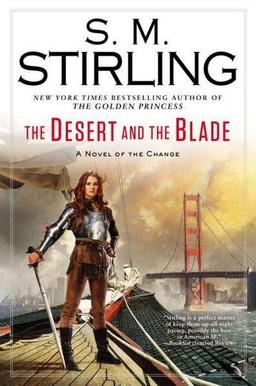 I didn't really appreciate the ambition and complexity of S.M. Stirling's massive saga of The Change, until Edward Carmien did a 15-part examination of the series here at Black Gate (check out the first installment here). This year sees two new releases in this epic fantasy series: The Change: Tales of Downfall and Rebirth, a big anthology set in Stirling's universe, with stories by Victor Milán, Walter Jon Williams, Harry Turtledove, Jane Lindskold, Emily Mah Tippetts, and many others (see Ed's review here), and The Desert and the Blade, the sixteenth novel in the series. Continuing the quest that began in The Golden Princess, two future rulers of a world without technology risk their lives seeking a fabled blade…
Reiko, Empress of Japan, has allied herself with Princess Órlaith, heir to the High Kingdom of Montival, to find the Kusanagi-no-Tsurugi, the Grass-Cutting Sword, a legendary treasure of an ancient dynasty that confers valor and victory to its bearer. Órlaith understands all too well the power it signifies. Her own inherited blade, the Sword of the Lady, was both a burden and a danger to her father, Rudi Mackenzie, as it failed to save the king from being assassinated.

But the fabled sword lies deep with the Valley of Death, and the search will be far from easy. And war is building, in Montival and far beyond.

As Órlaith and Reiko encounter danger and wonder, Órlaith's mother, Queen Matildha, believes her daughter's alliance and quest has endangered the entire realm. There are factions both within and without Montival whose loyalty died with the king, and whispers of treachery and war grow ever louder.

And the Malevolence that underlies the enemy will bend all its forces to destroy them.
The Desert and the Blade will be published by Roc on September 1, 2015. It is 612 pages, priced at $27.95 in hardcover and $13.99 for the digital edition. The cover is by Larry Rostant.