Deepest, Darkest Eden edited by Cody Goodfellow
Deepest, Darkest Eden edited by Cody Goodfellow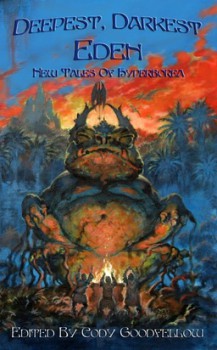 Clark Ashton Smith, one third of the Weird Tales triumvirate along with H. P. Lovecraft and Robert E. Howard, has been a favorite of mine ever since I bought a copy of the Lin Carter-edited collection Hyperborea. I was thirteen or fourteen and Smith's archly told stories of the titular prehistoric land and its impending doom before an encroaching wall of ice, stunned me. I was long familiar with Lovecraft's purple prose, yet nothing had really prepared me for Smith's cynical, lush, and utterly weird writing. The stories were stunning and I was a fan.
I was pretty excited when John R. Fultz announced that he had a story in soon-to-be-published Deepest, Darkest Eden,  a collection of new stories edited by Cody Goodfellow and set in Smith's Hyperborea. As soon as I finished reading Fultz' post (and letting my brain drink in the gloriously pulpy cover by Mark E. Rogers) I headed over to publisher Miskatonic River Press' site and ordered my copy. I couldn't wait to get the return to Clark Ashton Smith's decadent, dying land into my hands.
For me, stories set in someone else's created world, or using their characters, need to center on what makes the original special. They don't need to replicate it exactly, and with Clark Ashton Smith's idiosyncratic prose it would be a mistake to try, but they should aim for similar artistic goals. Ryan Harvey, in his long article about Smith's Hyperborean Cycle, concluded that it's an "unusual medley of elements, with Lovecraftian themes rubbing against satiric jabs, elevated mocking language, black jokes, and a sense of a slow, chilly annihilation that cannot be escaped". That gives any author setting out to play in Smith's imaginary Hyperborea a wide array of ideas to pursue.
Many of the stories in Deepest, Darkest, Eden — and there are eighteen plus two poems — are very successful at meeting my test for success. Several of the authors have clearly subsumed the alternately funny and despairing world view of Smith and mixed it with their own talents to create worthwhile additions to the Hyperborean Cycle.
The first story to catch the chilly spirit of Hyperborea is "In Old Commoriom" by Darrell Schweitzer. The unproductive poet and unthoughtful philosopher Paliphar Vooz is lost in the drugged, orgiastic decadence of Commoriom life when he is approached by a mysterious figure with a face like a marble mask. The figure tells Vooz
Behold, the gates of birth and death are open, and the clockwork of time has paused in its turning
then asks
Will you come with me?
Dulled by his existence and lured by the white-faced figure, Vooz follows it on a hypnotic journey, first through Commoriom's night and ultimately to the furthest reaches of time and space. I've only recently started reading Schweitzer and this story cements my regard for his writing.
Editor Cody Goodfellow's "Coils of the Ouroboros: The History Of Avasquiddoc The Apprentice" makes the most conscious and successful attempt to recreate Smith's distinctive style. Avasqiddoc was apprentice to the late sorcerer Squarvash-Yun. Recently he has been taken on by another wizard, Varka Zhom. Zhom hopes to learn Yun's secrets from Avasquiddoc, and the latter hopes to, by means of cannibalistic sorcery, extract all of Zhom's knowledge for himself. This story, replete with terrible magics, sly serpent-men, massive serpentine regurgitation, and an ending like O. Henry on bad drugs, is a blast.
John R. Fultz is on record crediting Clark Ashton Smith, and the Hyperborean Cycle in particular, as strongly influential on his own The Revelations of Zang so it came as no surprise that "Daughter of the Elk Goddess" is one of the collection's standouts. It's the straightforward tale of Atanequ, a famous hunter hired to lead a royal party through dangerous mountain passes to the city of Uzuldaroum. There the Princess Quarha of Issa will be honored and recognized as a new daughter of Yhoundeh the Elk goddess. It's a story of action and unfortunate love in the shadow of glacial doom.
"The Lost Archetype" by Brian Stableford is the funniest story in the collection. Told in wonderfully low-key writing, the story of Durul Nariban's escape to the Eiglophian Mountains gave me constant chuckles. Nariban is being chased from his town by a priest and his minions on charges of heresy, though what he really did was cuckold the priest's brother. While evading his hunters he meets the archetype of the title, a bit of sentient proto-matter on the run from its own pursuers — a band of vicious ape-men called Voormis. Together the pair, trapped between mad priest and brutal Voormis, struggle to outmaneuver and outthink their way to safety.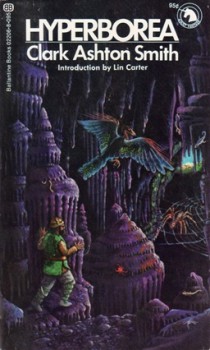 The final story I unconditionally love in Deepest, Darkest Eden is John Shirley's "Rodney LaSalle Has a Job Waiting in Commoriom". Rodney LaSalle is a nerd in present day Oakland with a love for the stories of Lovecraft and (especially) Clark Ashton Smith. His strange old uncle, who encouraged his love of weird literature, promised Rodney that riches and freedom await him in Commoriom. LaSalle never doubts his uncle's words. When he tells two disreputable acquaintances, they're convinced Rodney's really talking about his uncle's rumored treasure and follow him to his uncle's house. None of the three young men, even the knowledgeable Rodney, is prepared for the strangeness that follows.
There are several other strong stories in Deepest, Darkest Eden. Brian M. Sammon's horror tale, "The Darkness Below", tells what happens when avarice overwhelms good sense. "The Conquest of Rhizopium" by Dieter Meier is about the illusory glory of treacherous victory. "Zolamin and the Mad God" by Lisa Morton is a great mix of action, crazed magic, and betrayal. Finally, Don Webb's "The Beauties of Polarion" is another cynical and comical tale of greed and self deceit.
The two poems, "Youndeh Fades" and "Weird of the White Sybil" by Ann K. Schwader are both fine. Aside from their additions to all the mythopoeic goings on, they're a nice reminder of Smith's own poetry.
The remaining stories, for various reasons, didn't work for me. Some failed because of off-putting styles I found too oblique to be engaging. Others have plots that left me unmoved. Several, written as direct sequels to or in direct response to actual Clark Ashton Smith stories, seemed off target. None of those latter stories was enough in touch with the original stories to succeed.
In a book with this many stories, though, that's what's going to happen. I'm glad I picked it up as it looks perfect next to my copy of the John Pelan-edited The Last Continent, tales set in Smith's Zothique. For the stories by Schweitzer, Goodfellow, Fultz, Stableford, and Shirley alone the book is money well spent. If you haven't read Clark Ashton Smith's original stories, though, hold off before buying this book. What you need to do is go straight to The Eldritch Dark and read them right now!