Dear Puppy Nominees: Grow Up
Dear Puppy Nominees: Grow Up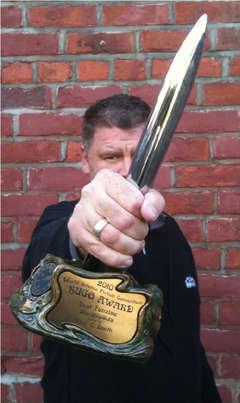 As I predicted in my last post, there's been no shortage of discussion regarding the Hugo Award ceremony Saturday night. From the non-Puppy contingent there's been plenty of smug satisfaction and schadenfreude, and from from the Puppies there's been the expected complaining about intolerance from the evil left, and dark threats about next year.
Sadly, I haven't seen a lot of calls to come together now that the fireworks are (largely) over. Perhaps the most insightful comment I read (and I read a lot) came from author James Enge, who wrote:
Let me say this about the puppies — rabid, sad, or otherwise: they were right to act, to participate in something that mattered to them. Fandom was caught napping on the nominations, but not on the final voting. We should rise to the puppies' challenge (and example) and participate in the nominations for next year's ‪Hugos‬.
If you take the time to read though the various posts and comments from both sides (and I admit I stayed up very late Saturday night and Sunday morning, doing exactly that), you'll find pretty much what you expect. Both sides talking past each other. A lot of hurt feelings, and a sense (probably accurate) that the other side isn't listening. No wonder both sides are talking exclusively to their own small audience — they're the only ones listening.
Only the most hardened Puppy kickers refuse to acknowledge that the Puppies have a point about the fiction they love being shoved aside for major awards. And for the most part, the puppies have (grudgingly) admitted that they could have fielded a better slate. I suppose that's understanding, of a sort. So there's that. Most of the grumpy talk in the past 48 hours hasn't really bothered me.
With one exception. There's one class of complaints that drives me absolutely batty, because it seems to me to arise from willful ignorance, an overabundance of pride, or raw, simple stupidity. And that's the anguished cry from some Puppy nominees who didn't win, and who put the blame squarely on the entire industry.
When I learned that Black Gate was nominated for our very first Hugo Award on April 5, I was beyond thrilled. It was the highest honor our little band of volunteers had ever received. And twenty minutes later, when we realized that our nomination had come at the whim of Vox Day as a result of being included in his Rabid Puppies slate, it immediately sapped the joy out of it.
At that point, we had a decision to make. We could either accept the nomination, celebrate it, and gladly throw our lot in with Rabid Puppies. Our we could make the very hard choice to decline, forgo the considerable glory that comes with a Hugo nomination, and sit this one out.
Unfortunately, the outcome of all this was painfully obvious, even back in April. Here's what I said on April 7th, two days after our nomination was announced:
I think it's been clear to most of us watching the proceedings that Hugo voters will react to the SP/RP slate as an unprecedented, large scale threat to the integrity of the awards, and react decisively to squash it. I see an electorate of principled voters who are poorly educated on what the Puppies are trying to accomplish, who see only a small group of individuals trying to tamper with the awards, and who will react in a perfectly understandable way to negate the outcome of that tampering. They may be vaguely aware that there is a semi-political agenda behind the effort, but they're not really interested in the motives. They see the Hugos under attack, and react accordingly.

How will they react? The strategy has already become pretty clear in the past few days: with a large-scale campaign to vote "No Award" for every category where the Puppies have locked out other nominees. (A "No Award" vote is just what it sounds like, a vote to give no Hugo in a particular category.)

I see a lot of skepticism about this approach from the Puppies. To their credit, they see merit in the short fiction slate they've put forward, and in the long run, they expect merit to win out.

That's not going to happen.
So in the end, it wasn't really that tough a call. Yes, it was hard to walk away from the glory of a Hugo nomination, but the consequences at the end just weren't worth it.
I waited until I could hear from every member of the staff who wanted to give input, and on April 19th, we formally withdrew from Hugo consideration (too late to get removed from the final ballot, as it turned out, but the committee was gracious enough to include a note on the ballot explaining that we had withdrawn.)
We weren't the only ones in this boat. Every nominee on the Puppy ballots faced the same choice. Black Gate blogger Matthew David Surridge was also nominated for a Hugo Award, as a direct result of being included in the Rabid Puppy ballot. He declined immediately (and his thoughts on the subject, published in "A Detailed Explanation," became the most-read article in our history). Marko Kloos and Annie Bellet both withdrew from the ballot.
As I said, it wasn't an easy decision. It would have been wonderful to bask in the glory of a Hugo nomination for the past four months, even knowing how it was almost certain to turn out. The vast majority of Puppy nominees chose not to turn down their nominations, and I certainly don't blame them. A Hugo nod is not an easy thing to walk away from — I know.
The intervening four months were a roller coaster for SF fans. I expected the "No Award" strategy to actively coalesce, perhaps even become organized. Didn't happen. Instead many voices — including Rich Horton, George R.R. Martin, and countless others — argued for considering the ballot on its merits. By July the Hugos seemed a little less predictable, and it seemed possible a few might manage an upset and take home an award. (So much so that when the results were announced on Saturday it seemed possible that the bulk of the electorate had given the puppies a fair shake, as I wrote early Sunday morning.)
Nope. As it turns out, the results were dead easy to predict after all. Events unfolded exactly as I predicted on April 7th, with a near-complete repudiation of the Puppy ballot, and a record number of "No Award" winners (five).
So no real surprises, then. Until I heard reports of Puppy nominees walking out of the Hugo ceremony, and posting on Facebook about how disgusted they were with the entire industry, after being passed over for "No Award."
I don't mean to be unkind but, come on. This is idiotic. Every nominee made their choice back in April — to accept the glory of a Hugo nomination, walk arm-in-arm with the Puppies, and risk the wrath of the Hugo electorate coming down squarely on their shoulders, or to forgo the glory of a Hugo nomination because the price was too high.
Black Gate made its choice, and we paid a price for it. So did every other nominee. Anyone who pretends they couldn't see that cost — to their career and to their reputation — is either a liar, an idiot, or so blinded by pride that they willfully ignored what was obvious to everyone else.