Dear Puppies: Your Taste Sucks
Dear Puppies: Your Taste Sucks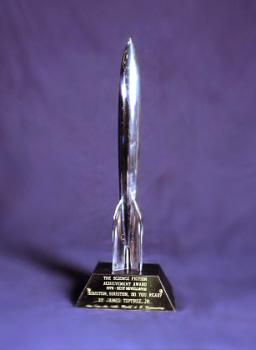 The winners of the 2015 Hugo Awards were announced Saturday evening at Sasquan, the 73rd World Science Fiction Convention in Spokane, Washington. As we've discussed here several times, the Hugo ballot was largely hijacked by the Rabid Puppies slate (and to a much lesser extent, by the Sad Puppies slate), which dictated roughly 70% of the final ballot.
The results are now in, and they mark a stinging repudiation of both the Rabid Puppies and Sad Puppies. Not a single Puppy-nominated work of fiction or non-fiction won, and the majority of Puppy-nominated works placed below "No Award." In both of the short fiction categories in which the Puppies locked out all other nominees, the Hugo went to "No Award." The complete list of winners follows.
Best Novel – The Three Body Problem by Cixin Liu, translated by Ken Liu (Tor Books)
Best Novella – No Award
Best Novelette – "The Day the World Turned Upside Down" by Thomas Olde Heuvelt (Lightspeed, April 2014)
Best Short Story – No Award
Best Related Work – No Award
Best Graphic Story – Ms. Marvel Volume 1: No Normal (Marvel Comics)
Best Dramatic Presentation (Long Form) – Guardians of the Galaxy
Best Dramatic Presentation (Short Form) – Orphan Black: "By Means Which Have Never Yet Been Tried"
Best Professional Editor (Short Form) – No Award
Best Professional Editor (Long Form) – No Award
Best Professional Artist – Julie Dillon
Best Semiprozine – Lightspeed Magazine, edited by John Joseph Adams
Best Fanzine – Journey Planet, edited by James Bacon, Christopher J Garcia, Colin Harris, Alissa McKersie, and Helen J. Montgomery
Best Fancast – Galactic Suburbia Podcast
Best Fan Writer – Laura J. Mixon
Best Fan Artist – Elizabeth Leggett
The John W. Campbell Award – Wesley Chu
I'm certain there will be a great deal of discussion on this topic in the next few weeks (and months). There will be plenty of spin, and recriminations, on both sides.
But one thing about this seems crystal clear right now: the Puppies have proven incapable of recommending fiction of any kind of quality, and certainly quality that rises to the level of Hugo worthiness.
Even with the high volume of rhetoric on both sides over the last few months, this is a train wreck that most clear-eyed viewers could see coming. While the Puppies continued to claim that they were merely reclaiming science fiction for the silent majority, and in the process rectifying some vast injustice done to right-leaning writers over the past years, they simultaneously managed to ignore or marginalize commentary from most of the genre's most astute critics, many of whom made every attempt to evaluate this year's ballot objectively and fairly. And that commentary was largely negative — and in many cases, harshly negative.
There's no shortage of examples out there for anyone who cares to look, but here's Rich Horton, one of the most accomplished (and frankly, most objective) editors the field has, in his review of the 2015 Hugo Shortlist:
Having gone through the entire list, I'm annoyed again. The problem is, simply, that very few really good stories got nominated. I really want the Hugos to celebrate greatness, or at least "very-goodness."

Undoubtedly many past Hugos come short of that, but at least they try. There are plenty of stories that, in my opinion, fit the parameters the Sad Puppies seem to want: bedrock Sfnal themes, solid and intriguing plots, lack of preaching, lack of emphasis on good writing at the expense of "story values"… I might not sign up for all those things, but I can sure understand the desire for them – but why not nominate more stories that really qualify?
In short, the Puppies insisted that their team had been unfairly shut out of the game for too long, and gamed the system so that their superstars could finally take the field. And when they did, it became painfully obvious fairly quickly that this team simply couldn't play ball.
The Puppies have stayed in their echo chamber for long months, and to be honest, I don't expect even this stinging repudiation of their selections to penetrate it. My guess is that they will lay this burden at the feet of another liberal conspiracy, or simply claim that the vast majority of the Hugo electorate voted against their slate without bothering to read it (just as I did).
But when your only defense is to convince yourself that the electorate spurned you because they found what you did to be against the very spirit of the Hugos and your ballot to be wholly illegitimate, then you're hiding sub-standard taste behind moral bankruptcy.
I'm certain the Hugo vote is just the beginning of the discussion, not the ending that so many fans had sought. But at least, on one topic, we finally have general agreement.
Dear Puppies: your taste sucks.