Getting Closer to Home: A Review of Milton J. Davis' Saga Changa's Safari
Getting Closer to Home: A Review of Milton J. Davis' Saga Changa's Safari
I have been a fan of Milton J. Davis' saga of Changa Diop ever since I read the first volume, Changa's Safari, back in 2010. All three volumes are published by MVmedia, LLC. They are:
Changa's Safari: A Sword and Soul Epic (2010)
Changa's Safari, Volume Two (2012)
Changa's Safari, Volume Three (2014)
[Click on any of the images in this article for bigger versions.]
It's no secret that Davis has been influenced by the father of the Sword and Soul brand of Heroic Fantasy, introduced to the world in the 1970s by the eminent author, Charles R. Saunders, creator of the Imaro novels, the first black, Sword and Sorcery hero and star of his own series.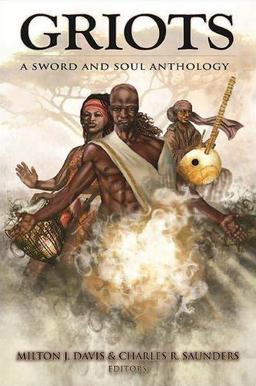 In fact, Davis and Saunders have teamed up to create such wonderful anthologies as Griots, and Griots: Sisters of the Spear. Davis has become quite prolific in the last five or so years, from editing the steamfunk anthology, From Here to Timbuktu, to writing a Young Adult fantasy, Amber and the Hidden City, to publishing a story in Janet Morris' anthology of heroic fantasy stories, Heroika: Dragon Eaters. He also wrote Woman of the Woods, a novel of heroine fantasy, previously reviewed by me for Black Gate. Davis has become quite a force in the world of fantasy and in indie publishing, having created MVmedia, LLC, and branching out to publish the work of other writers, as well as his own.
All that being said, let me talk about Changa Diop, his safari and his world. The novels take place on and around the African continent of the 15th century, and Davis does exceedingly well capturing the sights, sounds and smells of that era, its many cultures and races, religions and traditions. He does his research and it pays off quite well: Changa's world is the real world of that period in history, enhanced and sharpened by the touch of epic fantasy.
Changa is a young prince who has been forced to flee the kingdom of Kongo after his father is murdered by the sorcerer Usenge. But he vows one day to return to avenge his father, and free his family and the people of his homeland. This is at the heart of Changa's stories, his journey homeward… his safari. He has survived slavery and the gladiatorial games of Mogadishu, and eventually becomes not only a skilled warrior, but a fair and crafty merchant, as well.
His travels lead him into a wonderful series of adventures that take him to places like Mombasa, Sofala, India, Indonesia, and Arabia. He even travels to China and helps defend the Great Wall against the Mongols, rescues the young emperor, and befriends Zheng He, a real-life explorer of the 15th century. The world that Davis has created is not only rich with African history, folklore, and religion, it also resonates with all the trappings of heroic fantasy — magic and creatures natural and supernatural — all drawn from the mythology and legends of the countries and kingdoms that make up Changa's safari.
Davis gives us a great cast of characters, too. First among the main characters is Panya, the strong and determined, and very compassionate sorceress who has also fled her homeland, and who bears a secret of her own. She is Changa's friend, partner and lover… his soulmate. Then there is the silent Taureg warrior, who comes across as a totally three-dimensional, flesh and blood character, in spite of his never having a word of dialog. We also get to know young Prince Zakee, an old sailor named Mikaili, and even a Hindu goddess. Along the way we meet other recurring characters, as well as new villains and heroes, plus a large enough assortment of demons and monsters and ancient creatures that satisfied even this jaded reader.
What Davis does best is writing what I think of as "ripping yarns," and he does it very well. There is a nice touch of Rafael Sabatini and Alexandre Dumas in his stories, as well as a bit of Robert E. Howard, Charles R. Saunders, and even Robert Louis Stephenson. There is plenty of sword and sorcery action in the Changa novels, and we are taken into realms of political intrigue and betrayal, battles royale, devils, djinn, rogues, and villains of all breeds. He presents us with us a wide, historical canvas, and leads us on excursions across the East African kingdoms, introducing us to Yemeni Sultanates and Swahili city-states, among other races and cultures. It's like getting the best of both a history lesson and some exciting tales that are wild, wooly, weird and fantastic.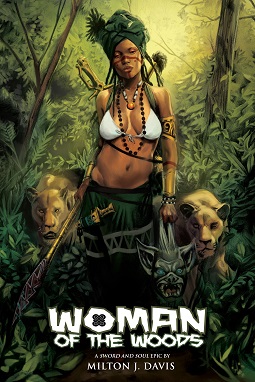 As Changa draws closer to his homeland in book three and the fulfillment of his vow to avenge the murder of his father, there are a number of unexpected twists, turns and surprises. Changa not only gains a fortune, but he loses that fortune, and then sets out to regain it through a series of hair-raising adventures. An interesting reunion with the silent Taureg provides a wonderful moment, but more than that, I dare not say. Then there is Panya, who takes off on her own adventure, journeying back to the Yoruba city-states of her homeland, to complete her own vow. She is befriended by a strange woman named Tula, a shape-shifter, a sort of were-serpent. Together they face intrigue and deception, do grim battle just to stay alive, and eventually we learn more of Panya's past, her destiny, and her fate.
Davis spearheads the new Sword and Soul movement: sword & sorcery, and heroic or epic fantasy based on the history, cultures, myths and folklore of ancient Africa. This is a rich and fertile ground for writers seeking to give their readers something different, and Davis excels at that. He has a gift for creating characters that not only loom larger than life, but are very real and very believable, and very "down to earth." What I like about the character of Changa is his wonderful sense of humor, which makes him stand out among the crowd of so many grim and dour warrior-heroes. Humor and affection among the characters, as well as disagreements and fights, make these novels work for me. Davis knows how to advance a story through dialogue — and he just keeps getting better: his prose is lean and often quite elegant. The dialogue rings true, and each character has their own distinctive voice. Davis' sense of character and his sensitivity to his characters bring not only humor and action to the table, but human drama, love, poignancy, and pathos, as well. Changa's courage and skill in battle, his business savvy, his honesty, loyalty and, above all, his humanity, will make you want to sign aboard and sail with him to Hell and beyond.  The three (so far) novels that comprise Changa's Safari are the real deal… swashbuckling adventures in the grand tradition.
There will be a fourth Changa novel, I hear, and there are plans for an animated feature, Changa and the Jade Obelisk. You can find out more by visiting MVmedia's webpage. Or visit Milton Davis on Facebook.
The saga of Changa's Safari is sword and soul heroic fantasy on the high seas… swords and sorcery in legendary cities and kingdoms, with plenty of derring-do, romance, and magic. When I read Changa's adventures they take me back to my youth when I first discovered sword and sorcery, and read everything I could lay my hands on. Check out Changa, I think you'll like him, his adventures, and Milt Davis' writing.
---
Joe Bonadonna's last article for us was J.P. Wilder's Schade of Night.