September 2015 Asimov's Science Fiction Now on Sale
September 2015 Asimov's Science Fiction Now on Sale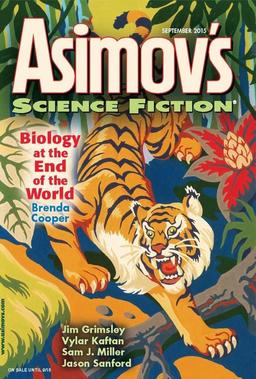 Asimov's Science Fiction has a spiffy new website this month, with loads of new content — including issue and individual story summaries, a vintage cover gallery (cool!), and lots more. You should check it out. Here's what they say about the latest issue:
Brenda Cooper's lead story in our September 2015 issue looks at the lines we draw between ethics and scientific research. A deadly clash between forces making last ditch efforts to preserve life as we know it and renegades involved in potentially dangerous, but possibly life saving, experimentation will ultimately determine what will be the "Biology at the End of the World"!

Distinguished author Jim Grimsley returns to Asimov's with a terrifying depiction of "The God Year"; Nebula Award winner Vylar Kaftan exposes us to an arctic chill on "The Last Hunt"; Sean Monaghan's "The Molenstraat Music Festival" paints a far future of exquisite invention that hasn't lost touch with the beauty of art; Jason Sanford's "Duller's Peace" imagines a far less happy future where even thoughts are under government surveillance; new to Asimov's, author Sam J. Miller looks at lives upended by drastic climate change in "Calved"; and Peter Wood lightens our mood as he chronicles the story of a single mother and her young son out "Searching for Commander Parsec."

And there's more… Robert Silverberg's Reflections hands us the key to "The Sixth Palace!"; Paul Di Filippo's On Books investigates the short form, with a look at collections by Robert Silverberg and Delia Sherman, as well as a new Dozois/Martin anthology; plus we have an array of poetry and other features you're sure to enjoy.
The only things missing are a cover credit, and a convenient link to last issue's contents… which I'm sure is there somewhere, I'm just damned if I can find it. Also, every single TOC link in our past Asimov's SF coverage is now defunct, which is annoying.
In any event, here's the complete Table of Contents for this issue, with links to story excerpts.
NOVELETTES
"Biology at the End of the World," Brenda Cooper
"The Molenstraat Music Festival," Sean Monaghan
SHORT STORIES
"The God Year," Jim Grimsley
"Duller's Peace," Jason Sanford
"Calved," Sam J. Miller
"Last Hunt," Vylar Kaftan
"Searching for Commander Parsec," Peter Wood
POETRY
"Haleakala – : House of the Sun," Shawn Fitzpatrick
"Intimations of a Dead Immortality," Bruce Boston
"Hard Copy," Herb Kauderer
"The Astronaut's Heart," Robert Borski
DEPARTMENTS
Editorial: Two Memorials, by Sheila Williams
Reflections: The Sixth Palace, by Robert Silverberg
On the Net: Welcome to Asimov's, by James Patrick Kelly
Next Issue
On Books, by Paul Di Fillippo
The SF Conventional Calendar, by Erwin S. Strauss
The September issue was available on newsstands on August 11. It will be on sale until September 15.
Asimov's Science Fiction is edited by Sheila Williams and published by Dell Magazines. The cover price is $4.99 for 112 pages; a one-year subscription is $34.97 (US) or $49.97 (International). It is also available in a variety of digital formats. The cover this issue is by Getty Images. Check out the complete TOC, story excerpts, and additional free content at the website.
We last covered Asimov's SF here with the August 2015 issue.
Our mid-August Fantasy Magazine Rack is here. See all of our recent fantasy magazine coverage here.