August 2015 Asimov's Science Fiction Now on Sale
August 2015 Asimov's Science Fiction Now on Sale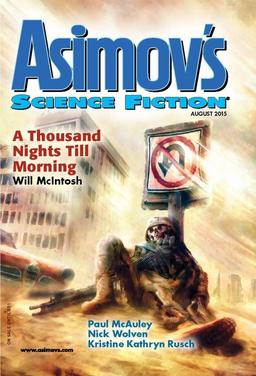 I buy Asimov's for the fiction, but I always read Sheila Williams' editorial first. This issue, she write some wise words on what appreciation means to authors — even authors who've made it to the pinnacle of their field.
Isaac Asimov… told me that he hadn't felt himself a complete success until his peers, the Science Fiction Writers of America, named him a Grand Master… On our way to the Readers' Award celebration that year, I mentioned Isaac's wistful comments about the Grand Master Award to Stan [Schmidt, editor of Analog]. Stan was stunned. Despite all his accomplishments, even Isaac Asimov needed reassurance? Did this mean the situation was hopeless for the rest of us?…

I've always thought that Isaac's desire for SFWA's Grand Master Award had more to do with the human need to set goals and strive forward than it did with any further wish for career validation. After all, by 1987 Isaac had already won four Hugo Awards, two Nebula Awards, and five Locus Poll awards. In 1982 he'd finally made the New York Times best sellers' list as well. Yet if even Isaac was not quite satisfied, then what about all the unsung scriveners — those that only win one or two awards, those that only end up with one or two nominations, and those that are never even nominated?…

I recently came across an amusing Facebook comment by Daniel Hatch. "I've been publishing stories for twenty-five years now, and every time someone says they've read one of them, I feel like I've won a Hugo. I think I have seven of them."… So readers… let those writers know when you read and enjoy their tales. An appreciative comment may not be a Hugo or a Nebula, but it can be exactly what an author needs to keep producing their very best stories.
There's lot of great fiction this month, with stories from Will McIntosh, Paul McAuley, Kristine Kathryn Rusch, and many others.
NOVELLA
"A Thousand Nights Till Morning" by Will McIntosh
NOVELETTES
"No Placeholder for You, My Love" by Nick Wolven
"Caisson" by Karl Bunker
SHORT STORIES
"Two-Year Man" by Kelly Robson
"Wild Honey" by Paul McAuley
"The First Step" by Kristine Kathryn Rusch
Non-fiction this issue includes Robert Silverberg's Reflections column (titled "Reunite Gondwanaland!"), On the Net by James Patrick Kelly, book reviews by Peter Heck, and The SF Conventional Calendar by Erwin S. Strauss.
Asimov's Science Fiction is edited by Sheila Williams and published by Dell Magazines. The cover price is $4.99 for 112 pages; a one-year subscription is $34.97 (US) or $49.97 (International). It is also available in a variety of digital formats. The cover this issue is by Tomislav Tikulin. Check out the complete TOC, story excerpts, and additional free content at the website.
We last covered Asimov's SF here with the July 2015 issue.
Our late-June Fantasy Magazine Rack is here. See all of our recent fantasy magazine coverage here.