Vintage Treasures: The Green Girl by Jack Williamson
Vintage Treasures: The Green Girl by Jack Williamson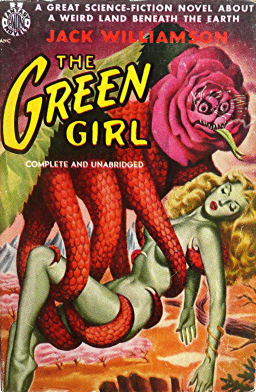 Jack Williamson is a science fiction legend. He won the Hugo and Nebula award for his novella "The Ultimate Earth," published in Analog in 2000, when he was 92 years old. He kept right on writing until 2006, when he died at the age of 98.
Of course, Jack Williamson first made a name for himself in the pulp era, when he was right at the top of the field, with novels like Golden Blood (1933), The Legion of Space (1934), The Cometeers (1936) and One Against the Legion (1939). That's right, Williamson was a popular writer for more than seven decades. Sales records fall all the time in this fast-moving business…. but that one is likely to stay for a very long time.
Williamson is also highly collectible, especially his early paperback appearances. In my Vintage Treasures posts it's routine for me to highlight highly desirable paperbacks from the 50s, 60s, and 70s that can be purchased for $5-$6, or less than the price of a modern paperback. (That's what "highly desirable" means in the vintage paperback biz. Paperbacks that aren't highly desirable usually sell for under $1.)
Not so with Williamson. His first book, The Green Girl, is one of the most collectible paperbacks in the field, with copies routinely selling on eBay from $25 – $150.
Of course, much of that has to with the eye-catching cover, painted by prolific pulp artist Ray Johnson. The novel was out of print for over 60 years (another reason for its collectibility), but that cover has spawned thousands of posters and t-shirts. Click on the image at left for a bigger version.
The Green Girl was originally published in two parts in Amazing Stories in March and April, 1930, and reprinted in 1950 as Avon Fantasy Novel #2, under editor Don Wollheim. While Williamson had had many popular appearances in the magazines by this point, this was his first solo appearance in book form.
Here Wollheim's fabulously over-the-top text from the back of the book:
BLACK DOOM!
PURPLE TERROR!
GREEN BEAUTY!

AT HIGH NOON, ON MAY 4, 1999, THE SUN WENT OUT! And at that moment the youthful Melvin Drake was thrust into the most amazing adventure ever encountered by mortal man. For years he had dreamed of a beautiful green-skinned girl and now that dream of love was to materialize in a threat that held the promise of death for every living being on earth!

To meet the challenge of a blacked-out world, Mel followed a scientific trail that led to dangers undreamed of. One by one, he was to face such fantastic challenges as:

THE RED GLOBE OF ATOMIC DESTRUCTION
THE DRAGON-PLANTS OF A HIDDEN WORLD
THE LORD OF FLAME IN A SERPENT'S BODY
THE SILVER GLOBES OF SUDDEN DEATH
THE MURDEROUS ZOMBIES OF MUTRON

Each crisis he met by the side of the girl of his dreams, THE GREEN GIRL, whose love was to offer him the clues by means of which a world could be saved.

Jack Williamson's powerful novel of THE GREEN GIRL will remind every reader of the colorful imagination and vivid characters of A. Merritt.
The 1950 Avon edition was the first (and only) appearance of The Green Girl in paperback, until it was reprinted by Armchair Fiction in 2012, as part of their Armchair Fiction Double line, which consciously emulated the old Ace Doubles.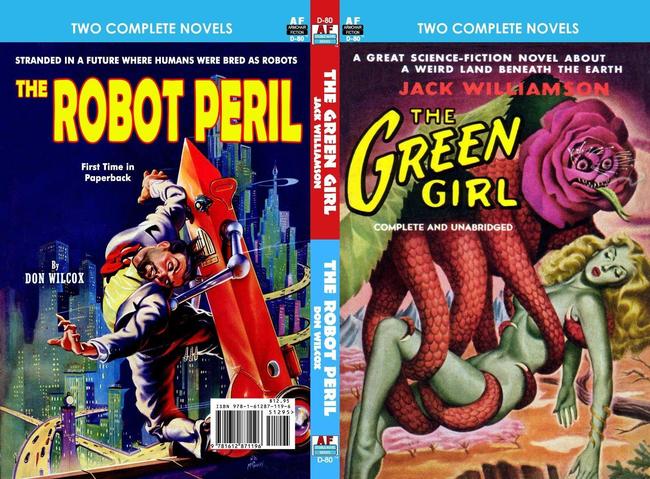 The Green Girl was paired with Don Wilcox's The Robot Peril, originally published in Fantastic Adventures in January 1940. Together they were published as Armchair Fiction Double Novel #80, on September 22, 2012. The book is still it print.
Our recent coverage of Jack Williamson includes:
Professor Patrice Caldwell on Exploding Cows, Peanut Buster Parfaits, and Why Grand Masters Flock to Portales, New Mexico by Emily Mah
Vintage Treasures: The Legion of Space by Jack Williamson
Vintage Treasures: The Best of Jack Williamson
Jack Williamson, Lin Carter and Appendix N: Advanced Readings in D&D
The Green Girl was published by Avon in 1950. It is 125 pages, priced at 25 cents. The cover is by Ray Johnson.
See all of our recent Vintage Treasures here.