Black Gate Withdraws From Hugo Consideration
Black Gate Withdraws From Hugo Consideration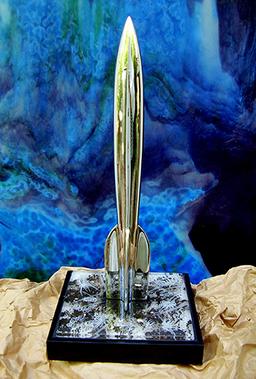 On April 4th, Black Gate was nominated for a 2015 Hugo Award for Best Fanzine. One of our bloggers, Matthew David Surridge, was also nominated as Best Fan Writer but, as he explained, he declined the nomination before the ballot was announced.
Since the nomination for Black Gate was for the entire site, which produces over 120 articles per month by a team of over 40 volunteers, I did not decline the nomination, although personally I shared many of the Matthew's concerns. However, over the last two weeks I've had the opportunity to hear from many of our bloggers, and by and large they share many of those concerns as well.
Accordingly, on Saturday, April 18th, I informed the administrators at Sasquan that we have withdrawn Black Gate from consideration for the 2015 Hugo Award.
As I explained in my previous  post, Sad Puppies and Super Puppies: The 2015 Hugo Train Wreck, (and in our original announcement), I have serious concerns about the legitimacy of the 2015 Hugo ballot, as it was largely dictated by a single individual, Vox Day, who campaigned for a slate of nominees on his website (the Rabid Puppies slate). To a lesser extent, it was also influenced by Brad Togersen's Sad Puppies slate. Together, the two slates successfully placed 61 nominees on the ballot. Black Gate was part of the Rabid Puppies ballot, although we were unaware of our inclusion until we were informed of our nomination.
In short, over the last two weeks I have come to agree with those arguing that the use of a slate — and particularly a slate that has 11 nominees from Vox Day's Castalia House, and nominates him personally for two awards — is a serious threat to the perceived integrity of the Hugo Awards.
The Hugo Award is the most broadly recognized and respected award in science fiction, despite occasional fannish complaints about bias one way or another and other politics over the years, and in the last two weeks it's become apparent that this is a full blown scandal that could permanently tarnish the reputation of the award.
The growing sentiment among many Hugo voters is to respond to this perceived threat by placing "No Award" ahead of every one of the Rabid Puppies and Sad Puppies on the ballot, which would deny the members of those slates a Hugo Award. A number of sites offer guidance on exactly how to do this, including Deirdre Saoirse Moen's "The Puppy-Free Hugo Award Voter's Guide."
The vast majority of fans I've spoken with have no particular animosity towards the Puppies' stated objectives, or their right-wing leanings. The "No Award" movement is broad-based response motivated by a sincere desire to protect the integrity of the Hugo Awards, and is not politically-motivated.
I happen to agree with this approach. I also believe that it will be successful. Despite a lot of confusion surrounding "No Award," it is not particularly difficult for "No Award" to win, and in fact it has done so a number of times in the past. "No Award" is just like any other nominee, and can win just as easily.
In fact, if I'd heard half as much buzz about any other candidate in prior years as I've heard about "No Award" this year, I'd be convinced that it would sweep the awards. Based on the countless endorsements for "No Award" I've heard this year, I believe that it will have a strong showing at the awards.
Proponents of the Rabid Puppies have argued, on the surface quite rationally, that the ballot is now the ballot, and since they've had to put up with bad ballots in the past, the rest of us should be able to endure one we don't like this year. Why not just read all the candidates and vote based on the merits?
This sounds like a compelling argument. Except that it's based on the premise that this is a legitimate Hugo ballot.
I don't believe that it is. I believe it is tainted, clearly the product of well-promoted ballot-stuffing, and to endorse such a ballot would permanently damage the reputation of the Hugos. Eleven-time Hugo Award winner and frequent award presenter Connie Willis put it well, I think, when she refused to take part in presenting the Hugos this year, saying,
In my own particular case, I feel I've also been ordered to go along with them and act as if this were an ordinary Hugo Awards ceremony. I've essentially been told to engage in some light-hearted banter with the nominees, give one of them the award, and by my presence – and my silence – lend cover and credibility to winners who got the award through bullying and extortion.

Well, I won't do it. I can't do it. If I did, I'd be collaborating with them in their scheme.
The "threats and extortion" Ms. Willis refers to are comments by Vox Day that "If No Award takes a fiction category, you will likely never see another award given in that category again," which many interpret as a threat to use a similar process to wreck the Hugos in future years.
I've talked with many Puppies over the past few weeks, and they seem genuinely bewildered at the "No Award" strategy. They don't understand how so many voters can be willing to reject the ballot without even reading it. Many of their critics have tarred the Rabid Puppies endeavor as a largely cynical effort to destroy the Hugos but, I don't believe that. To their credit, the Puppies do seem to believe that their ballot has real merit.
I get that. And I respect it. The Puppies have convinced a great many voters — including, apparently, George R.R. Martin — to accept their ballot, and to read it and judge it fairly. That's certainly a valid position, and I don't argue with it.
But it's not my position. Like Ms. Willis and many others, my larger concern is with the integrity of the Hugos. Giving Hugos to members of the Rabid Puppies slate would be a tacit acceptance of slate voting as a legitimate way to award Hugos, and I feel this would permanently tarnish an award that has done an enormous amount to promote and celebrate some of the finest SF and fantasy this field has ever seen.
The strongest argument the Puppies can muster is that this shouldn't matter, because there are very deserving candidates on the award ballot this year, and denying them a Hugo award without the regard they deserve is wrong.
The strongest argument I can muster is that I believe that Black Gate is a superb website, the product of thousands of hours of dedicated effort from dozens of the top writers in the field every single month, and if there's even the slightest chance that giving it a Hugo would in any way diminish the reputation of the Awards, we, as an organization and as a team, categorically reject any involvement in that effort.
I don't expect the Puppies to agree with or perhaps even understand our reasoning. But I hope that they respect it, the same way we respect their arguments.
Black Gate has, for the past two weeks, been debating the very legitimacy of the current Hugo ballot, and I have been publicly and privately advocating a "No Award" approach. I have also come to the conclusion, reluctantly, that this goes against the spirit of the awards. We can't both be a part of the ballot, and actively working against it. So we have formally withdrawn Black Gate from consideration for the 2015 awards.
It's our hope that the Sasquan committee will be able to replace our name on the ballot with another deserving candidate. If that's not possible, nonetheless I feel removing our name will focus attention on those candidates for whom the award may not be so problematic.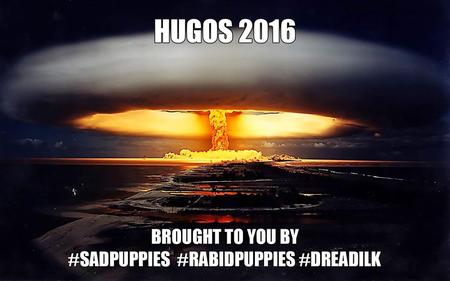 Vox Day and others have said that a "No Award" sweep at the Hugos this year would be a victory for the Rabid Puppies. (And Vox has rather gleefully posted the graphic at left on his website, as he gears up to wreak havoc on future awards if the Rabid Puppies slate loses.)
I'm not particularly concerned with who "wins" or "loses" this debate. As I've said, my chief concern is with the integrity of the Awards. I would love to see Black Gate win a Hugo, but not at the cost of the hard-won reputation of the award. If the Rabid Puppies feel a sense of accomplishment in a slate of "No Awards" at this (and future) Hugo ceremonies, they are certainly entitled to do so.
I would like to address three other issues as well. First, many folks have criticized the Rabid Puppies for including candidates — such as Black Gate, and Matthew David Surridge — on their slate without asking our permission. I can't speak for Matthew, but personally I don't feel this criticism is justified. Vox and his team had the perfect right to promote whatever works they felt were worthy. We promote, criticize, and advocate works for awards every day right here at Black Gate. Certainly what the Rabid Puppies did was different in degree, but not in principle.
Second, Black Gate is hardly the first to withdraw from Hugo consideration. Marko Kloos and Annie Bellet both withdrew from the ballot last week. I think that doing so first took considerable courage, and it certainly made our decision easier. I salute both of them for making the tough choice to do what they felt was right.
Finally, in her public comments, Annie mentioned standing "in a battlefield," and having to "cringe when I open my email." Some folks have reported a high volume of negative commentary aimed their way as a result of being included in the Rabid Puppies ballot.
I want to make it very clear that, although Black Gate has received a very high volume of e-mail over the last fifteen days– and our various posts on the controversy have been visited over 60,000 times — to my knowledge we have not received a single negative e-mail, from either side. I have received nothing but congratulations (and the occasional condolence).
A great deal has been said about the intensely negative tone of this debate, but I am delighted to report that, without exception, Black Gate readers have continued to show a great deal of class. Thank you, one and all.
Comments and debate are, as always, most welcome.