Marko Kloos and Annie Bellet Withdraw From the Hugo Ballot
Marko Kloos and Annie Bellet Withdraw From the Hugo Ballot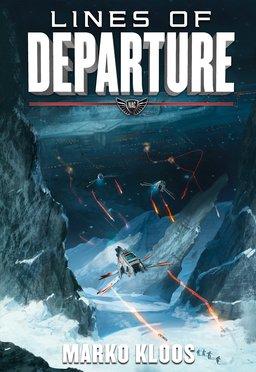 The drama over the 2015 Hugo nominations continues.
Earlier today 11-time Hugo Award winner Connie Willis refused to present the Campbell Award at this year's ceremonies, saying "If I did, I'd be collaborating with [Vox Day and his followers] in their scheme."
And later today, two authors whose works were included in Vox Day's Rabid Puppies slate both declined their Hugo nominations. Annie Bellet, whose "Goodnight Stars" was nominated for Best Short Story, wrote:
I don't want to stand in a battlefield anymore. I don't want to have to think over every tweet and retweet, every blog post, every word I say. I don't want to cringe when I open my email. I don't want to have to ask friends to google me and read things so that I can at least be aware of the stuff people might be saying in my name or against my name. This is not why I write. This is not the kind of community I want to be a part of, nor the kind of award I want to win…

Maybe someday I will get to sit in a pretty dress next to my mother and know that if I lose the rocket, it will be because someone wrote a story that resonated more than mine. To know that I will lose to a person and not a political fight. To sit there and know if I lose, no one will cheer. And if I win, no one will boo. Perhaps someday I can win this award for the right reasons and without all the pain.
And Marko Kloos, whose Lines of Departure was nominated for Best Novel, writes:
It has come to my attention that Lines of Departure was one of the nomination suggestions in Vox Day's "Rabid Puppies" campaign. Therefore — and regardless of who else has recommended the novel for award consideration — the presence of Lines of Departure on the shortlist is almost certainly due to my inclusion on the "Rabid Puppies" slate. For that reason, I had no choice but to withdraw my acceptance of the nomination. I cannot in good conscience accept an award nomination that I feel I may not have earned solely with the quality of the nominated work.

I also wish to disassociate myself from the originator of the "Rabid Puppies" campaign. To put it bluntly: if this nomination gives even the appearance that Vox Day or anyone else had a hand in giving it to me because of my perceived political leanings, I don't want it. I want to be nominated for awards because of the work, not because of the "right" or "wrong" politics.
If you want to get up to speed on the events surrounding the 2015 Hugo nominations, but only have the time it takes to eat a tuna fish sandwich, we've compiled a handy summary in our earlier article, Sad Puppies and Super Puppies: The 2015 Hugo Train Wreck.