Literary Wonder & Adventure Podcast: Clark Ashton Smith, Poet of The Fantastic
Literary Wonder & Adventure Podcast: Clark Ashton Smith, Poet of The Fantastic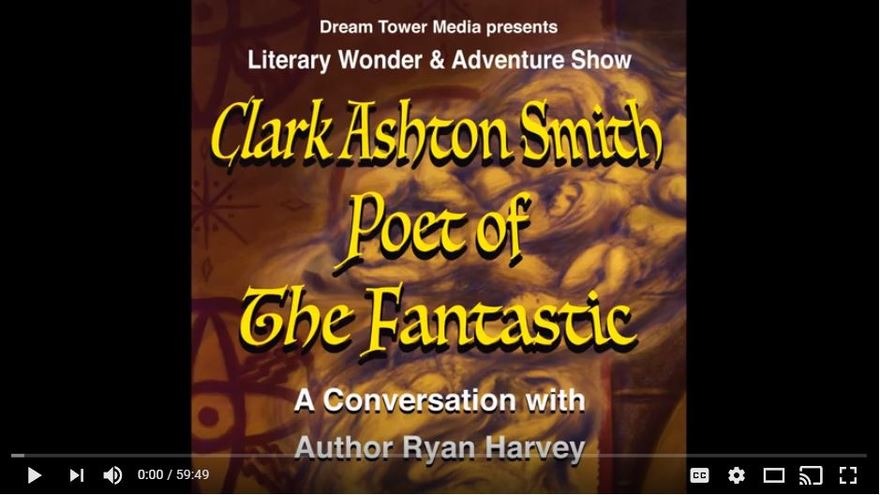 I've started listening to podcasts during my morning commute on the train and, let me tell you, I am an instant fan. I can't explain what took me so long to discover them, but I am a convert. I've really been enjoying Jonathan Strahan & Gary K. Wolfe's Coode Street Podcast, and am just getting into Welcome to Night Vale. But the best podcast I listened to this month was Episode 9 of the Literary Wonder & Adventure Show from our old friends Robert Zoltan and Dream Tower Media. This month's topic is Clark Ashton Smith, Poet of The Fantastic, and the special guest is our very own Saturday blogger Ryan Harvey.
Ryan practically introduced me to CAS with his epic four-part examination of The Fantasy Cycles of Clark Ashton Smith, starting with The Averoigne Chronicles. He brings both a deep knowledge and genuine passion to the topic, and his enthusiasm is infectious. Here's a clip from around the 7-minute mark.
The first of [Smith's] weird short stories that he sold to a magazine was 1926, a story called "The Abominations of Yondo," which he sold to a local magazine called The Overland Monthly. And H.P. Lovecraft, who was his pen pal at the time, and for the rest of Lovecraft's life, encouraged Smith to sell his stories to Weird Tales. And he got into Weird Tales, and for a period of about five years he, H.P. Lovecraft and Robert E. Howard, were also all pen pals, and were the major focus of the magazine. And Smith sold a lot of stories at this time, and then in 1934-35, right about the same time both Lovecraft and Howard stopped writing – although for very different reasons – Smith just no longer needed to support his parents (his mother died in '35 and his father died in '37) and he just lost interest in writing prose.
Ryan is a terrific resource for anyone who wants to understand the mystery and appeal of the great pulp fantasists of the early 20th Century, and host Robert Zoltan has edited their conversation into a fascinating 1-hour package. Check the whole thing out here, and see our coverage of previous episodes of the Literary Wonder & Adventure Show here