Exploring the Subterranean
Exploring the Subterranean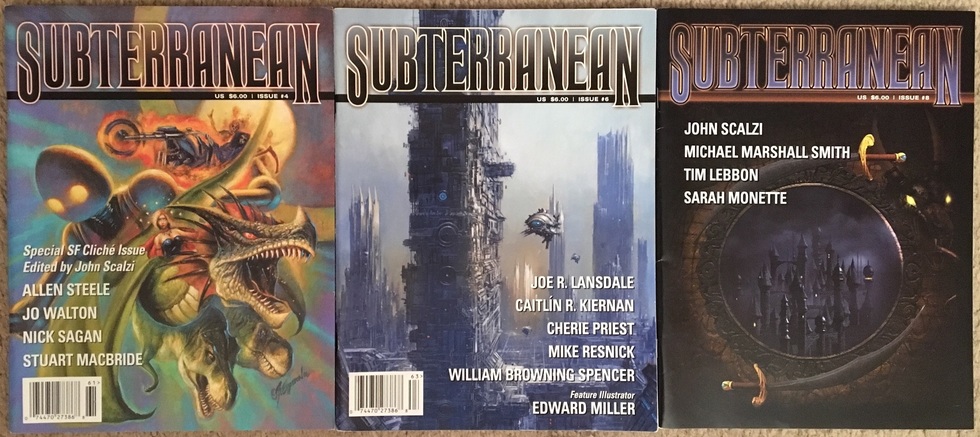 I founded Black Gate in 2000, and we published the first issue at the World Fantasy Convention in Corpus Christi, Texas in October of that year. We produced the print magazine for 11 years (the last issue, #15, was published in May 2011), and during that decade-plus I was keenly observant of other print magazines, especially new ones. A handful of new zines popped up during that period, but I think my favorite was William Schafer's Subterranean magazine, which produced eight print issues between 2005-2011 before transitioning online.
I only managed to come across a handful of issues during the print era, but that's okay. I keep an eye out for back issues at conventions, and occasionally snag one or two (as I did with Subterranean #2 at the 2015 Windy City Pulp & Paper convention). They're hard to come by, but they're generally not expensive. I have an eBay saved search that alerts me when new lots are listed, and a few months ago I got a ping about the set of three issues above.
Subterranean #4 – 2006
Subterranean #6 – January 2007
Subterranean #8 – October 2011 — the last print issue
They were in pristine, unread condition, and offered for $16 total. I was the only bidder, and took the whole set home for less than the original cover price. It's lonely being an obsessive magazine collector, but sometimes it has its benefits.
[Click the images for bigger versions.]
Fiction mags are natural incubators for emerging talent. The hot writers of today were earning their chops in fiction magazines a decade ago, and flipping through the pages of these issues reveals fiction by John Scalzi, Rachel Swirsky, Ann Leckie, Jo Walton, Elizabeth Bear, Cherie Priest, and many other writers who've gone on to great things.
William Schafer was (and is) the publisher of Subterranean Press, one of the most successful and prolific genre small presses. Subterranean Press has produced hundreds of books over the past few decades, and as a result Bill Schafer is one of the most well-connected editors in the field. I'm not at all sure what the genesis of Subterranean magazine was, but it wouldn't surprise me at all if it was a combination marketing engine/house organ/showcase for Subterranean writers. Whatever the case, the magazine published some great fiction, and was very professionally designed and laid out.
One of the other things I liked about Subterranean was Bill Schafer's willingness to experiment. Issue #4, the Special SF Cliché Issue, is a perfect example. It's guest-edited by Scalzi, and includes articles and anecdotes on the tired clichés found in fiction submissions, from two of the biggest editors in the field, John Joseph Adams and Teresa Nielsen Hayden. Here's Schafer on how the issue came together, from his Editorial:
About a year ago, SF novelist and friend John Scalzi pitched an anthology idea to me, one themed around science fiction clichés. You know, those ideas like sentient computers and Amazon women on the moon that are so been there done in the field that even the souvenir t-shirt doesn't fit any more.

The idea didn't strike me as ideal for an anthology, but for a 60,000 word magazine issue…. well, here we are. I'll let John run with the clichés through the story introductions and his Editor's Afterword. Me, after giving the stories a test run, I'm pretty happy to say there's life in them clichés.
Issue #4 has an extremely impressive TOC, with contributions from Rachel Swirsky, Scott Westerfeld, Allen Steele, Chris Roberson, Elizabeth Bear, and many more.
Editorial by William Schafer
"Scene from a Dystopia," by Rachel Swirsky
"The Third Brain," by Charles Coleman Finlay and James Allison
It Came from the Slush Pile, by John Joseph Adams
"A Finite Number of Typewriters," by Stuart B. MacBride
Cliché Haiku, by Scott Westerfeld  (poem)
"Horrible Historians," by Gillian Polack
"Hesperia and Glory," by Ann Leckie
"What a Piece of Work," by Jo Walton
Remarks on Some Clichés I Have (by Definition) Known Too Well, by Teresa Nielsen Hayden
"The Last Science Fiction Writer," by Allen Steele
"Shoah Sry," by Tobias S. Buckell and Ilsa J. Bick
"Labyrinth's Heart," by Bruce D. Arthurs
"The NOMAD Gambit," by Dean Cochrane
"In Search Of … Eileen Siriosa," by Ron Hogan
"Tees and Sympathy," by Nick Sagan
On Books by Dorman T. Shindler
"Last," by Chris Roberson
"Refuge," by David Klecha
"The Inevitable Heat Death of the Universe," by Elizabeth Bear
Editor's Afterword by John Scalzi
This issue was edited by John Scalzi and published in 2006. It is 88 pages, with a cover price of $6. The cover and interior illustrations are by Bob Eggleton.
Issue #6 is a more typical issue, with fiction from Elizabeth Bear, Joe R. Lansdale, William Browning Spencer, Cherie Priest, Peter Crowther — and a Cthulhu Mythos story by Livia Llewellyn, "Take Your Daughters to Work."
"Limerent," by Elizabeth Bear
"Following Piper," by Cherie Priest
Edward Miller: An Appreciation, by Peter Crowther
"Also Known As," by Peter Crowther
"Chartreuse Mansions," by Mike Resnick
"Take Your Daughters to Work," by Livia Llewellyn
"The Tenth Muse," by William Browning Spencer
"The Long Dead Day," by Joe R. Lansdale
"Zero Summer," by Caitlín R. Kiernan
On Books, by Dorman T. Shindler
Issue #6 was edited by William Schafer and published in January 2007. It is 88 pages, priced at $6. The cover is by Edward Miller.
Issue #8, the final print issue, was published after a four year delay in 2011. It includes a big novella by Tim Lebbon and an Old Man's War story by John Scalzi, plus fiction from my friend Andy Heidel, who sent me the very first review copies I ever received waaaay back in the summer of 1997, when he was the PR rep for Avon Eos. Here's the TOC.
"The Seventeenth Kind," by Michael Marshall Smith
"Vale of the Blood Roses: A Tale of Noreela," by Tim Lebbon
"Redemption Center," by R. Andrew Heidel
"Bogeymen," by Jason Erik Lundberg
"Why Do You Linger?," by Sarah Monette
"Questions for a Soldier," by John Scalzi
"Waltz with the Echoes," by Darren Speegle
Issue #8 was edited by William Schafer and published in October 2011. It is 88 pages, priced at $6. The cover was by Edward Miller.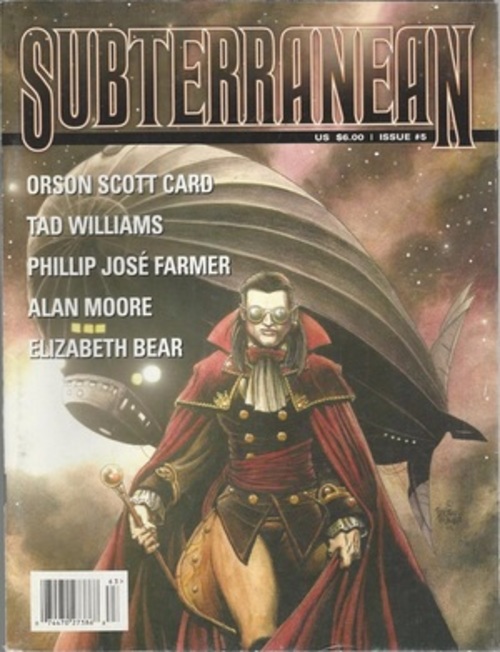 Subterranean #5 – cover by Timothy Truman
If you're interested in print copies of Subterranean, they can be a little tricky to come by, but they're well worth tracking down. The eight print issues frequently show up in online auction sites like eBay; expect to pay around $10 for copies in good condition. Keep your eye out for discount lots with multiple issues.
Your best bet might be to try the online issues, all of which are still available on the Subterranean website. If you've got your heart set on print, check out The Best of Subterranean, a 752-page hardcover collecting dozens of the best stories from both the print and digital incarnations. It was published by Subterranean Press in July of 2017; cover price is $45, and copies are still available.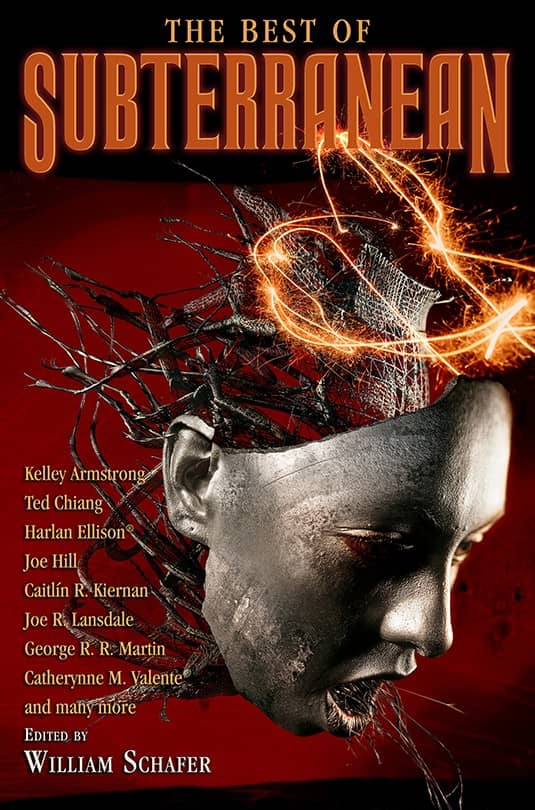 Starting with the Winter 2007 issue, Subterranean shifted to online publication. Why the switch? David Soyka made this conjecture back in 2007:
Beginning with its Winter 2007 issue, Subterranean Magazine is now available for free on its website; Issue 8 will be the last print edition and subsequently will move exclusively on-line, apparently with regular weekly updates of new fiction and columns, as opposed to a single fixed issue publication. Obviously, it's less expensive to publish on-line than hard copy, though exactly why they are giving away content is unclear. The printed magazine was sold for $6 an issue, with a special "collector's limited edition" hardcover sold for $80…

I have no insight into what the business rationale for this might be, other than to guess the magazine wasn't sufficiently profitable and that perhaps the on-line version is intended as a way to get readers to visit the site regularly and possibly in a frame of mind to order the somewhat pricey limited edition books from parent Subterranean Press. What you get on the website is strictly text, no illustrations (though the magazine was never heavily illustrated) and no advertising. The stories are mostly "short-shorts," though there are longer ones published in installments (as I write this, all twelve parts of the Lucius Shepard novella, "Vacancy" are up, and the first chapter of "The Surgeon's Tale" by Jeff VanderMeer and Cat Rambo has been posted).
Subterranean maintained a fairly rigorous quarterly schedule for nearly seven years, producing some 31 online issues. Here's the complete catalog.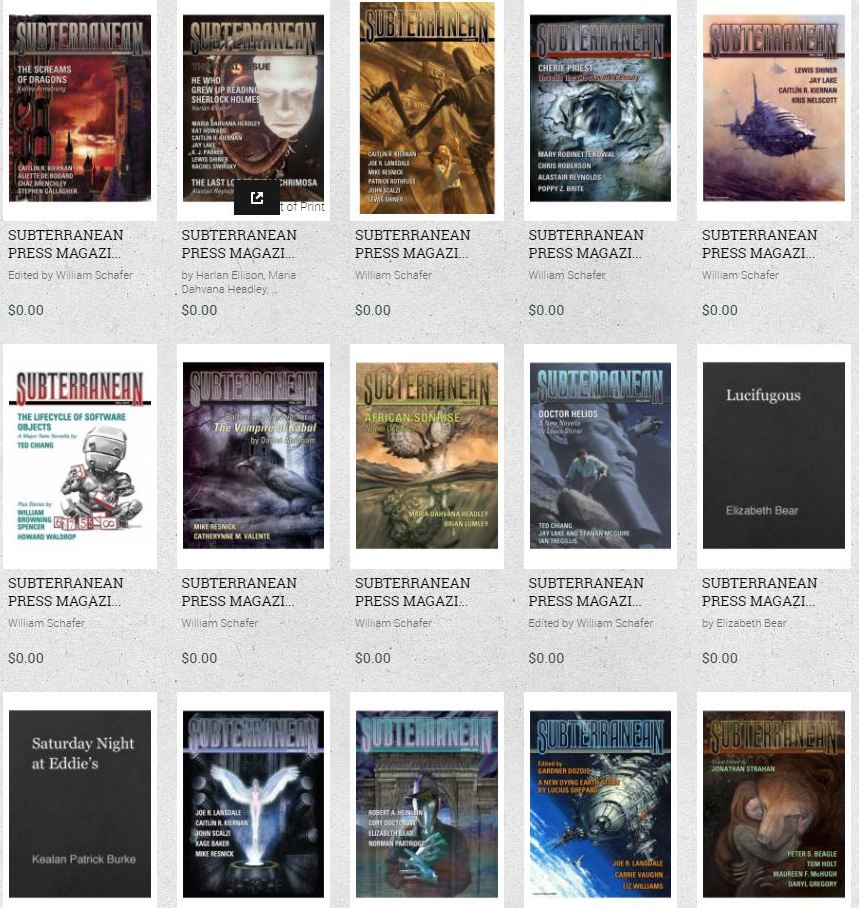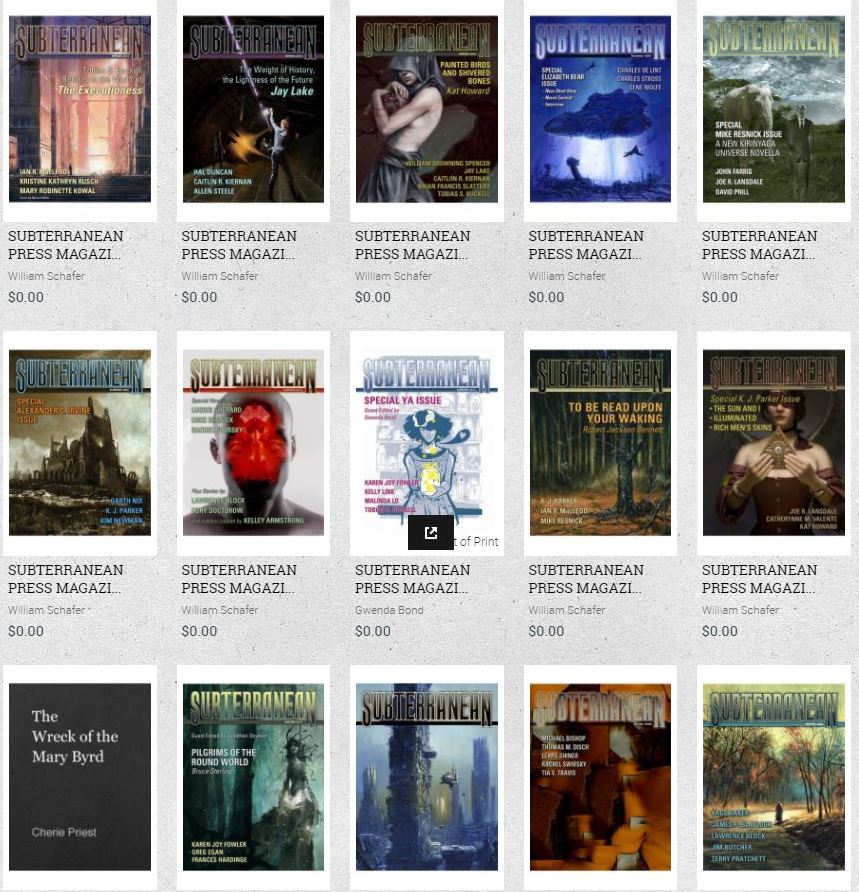 Click the images above to be taken to the Subterranean Press website, where digital issues are free and still available. Some issues are also downloadable in epub and mobi formats.
Our previous coverage of Subterranean includes:
Subterranean, Issue #2
Subterranean #7, reviewed by David Soyka
Subterranean #9, Winter 2007, reviewed by David Soyka
Subterranean Spring 2011
Subterranean Summer 2011
Fall 2011 issue of Subterranean
Winter 2012 issue of Subterranean
Spring 2012 issue of Subterranean
Summer 2012 issue of Subterranean
Fall 2012 issue of Subterranean
Winter 2013 Issue of Subterranean
Spring 2013 Issue of Subterranean
Summer 2013 Subterranean
Fall 2013 Subterranean
Winter 2014 Subterranean
Spring 2014 Subterranean
Summer 2014 Subterranean: The Final Issue
See our late November Fantasy Magazine Rack here, and all of our recent Magazine coverage here.