Subterranean Magazine Spring 2011 Now Available
Subterranean Magazine Spring 2011 Now Available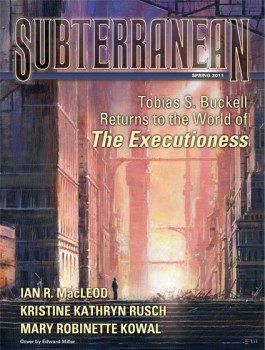 The 18th online issue — and 25th issue overall — of one of the genre's leading publications, Subterranean Magazine, is now available.
Subterranean is published quarterly. It appeared in print for seven issues before switching to the current online format in Winter 2007. It is presented free online by Subterranean Press, and is edited by William Schafer.
The contents of each issue are unveiled gradually. So far available in the Spring 2011 issue are:
"The Crawling Sky", a weird western by Joe R. Lansdale (originally published in Deadman's Road)
"Show Trial", a post-WWII fantasy novella by Kristine Kathryn Rusch
"The Crane Method", by Ian R. MacLeod
"The Fall of Alacan", by Tobias S. Buckell, which returns to the setting of his novella The Executioness (which also shares a setting with Paolo Bacigalupi's Nebula-nominated novella The Alchemist).
"Water to Wine" by Mary Robinette Kowal, the prose version of a long novelette originally written for the audio anthology Metatropolis.
Coming up: Mike Resnick's latest escapade featuring Lucifer Jones, plus the usual reviews and non-fiction.
The cover this issue is by Edward Miller. The complete issue is here.