Goth Chick's Crypt Notes: A Zombie of Your Very Own
Goth Chick's Crypt Notes: A Zombie of Your Very Own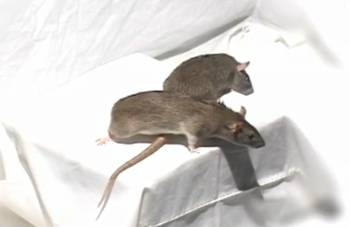 Every so often I come across a product so insanely cool that I not only have to own it immediately, but I must also tell you about it so we can share the joy together.
In the past, such life-altering products have included a movie-set-worthy cobweb maker, a blood-like energy drink sold in IV bags and a fairly significant collection of dead things in bell jars.
But it isn't until today that I can tell you how to fill your house and yard with zombies, ghosts and other creepy stuff for the price of a 1980's projector bought off eBay and a $35 DVD.
Enter special effects magician Jon Hyers and his virtual 3D horrors.
I came across Jon Hyers at the St. Louis Haunted Attraction Show when, walking by his booth, I noticed several large sewer rats seemingly scurrying in and out from under his display table.
Wanting to alert him of this fact without causing mass panic at the show, I had started trying to attract his attention with a series of gestures and gagging noises.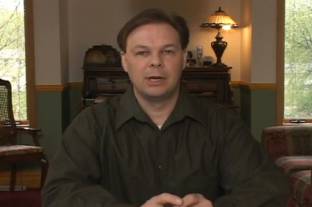 It was only when someone passed a hand in front of the light source that it dawned on me the rats were actually a projected imagine; an extremely high-quality and three-dimensional image so realistic that I used collapsing into a chair in his booth as an excuse to start a conversation with Jon and learn more.
Jon first became interested in special effects while trying to dissect the magic behind his favorite Star Wars and Star Trek movies. Experimenting by developing a short scifi / horror film of his own he eventually began receiving commissions for work at large attractions such as Busch Gardens and Top Secret in the Wisconsin Dells.
However, in 2008 when the Divo Ostrov Amusement Park in St. Petersburg, Russia came calling for effects to use in their "Terrors of St. Petersburg" attraction, Jon finally had the resources and the inspiration to develop the first 3D video projection process that does not require 3D glasses to experience.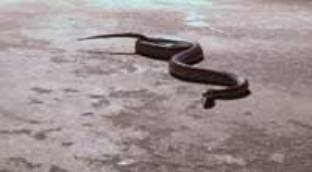 The first effect to be perfected was those amazing rats on the floor; but rats soon lead to snakes and finally spiders which can be used on the walls or ceilings as well as the floor for maximum gross-out value.
From there it was a short jump to ghosts and finally zombies which can crawl on your roof, pull themselves out from behind gravestones in your front yard or beckon visitors in from your front door or windows.
I was so blown away by the realism of what Jon has created that I began to suspect some of the ghost-hunting shows on cable might have found Jon's website as well.
Though he considers the "how's" of the technique top secret, setting up Jon's zombies is easy and inexpensive for what he and the industry calls us "home haunters" (i.e. the Halloween-obsessed). It also isn't hard to see that this could be the perfect easy-but-impressive special effect for you aspiring indy-horror-film creators. All you need is a projector to hook up to your laptop and one of Jon's DVD effect collections.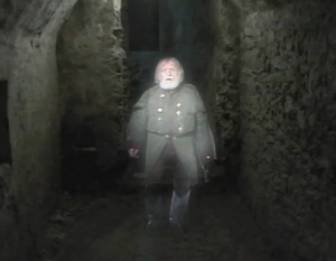 I recently picked up a projector on eBay specifically for this purpose for under $60, and this October the neighborhood kids will have just one more things to tell their therapists about when exploring their childhood traumas. In fact, why wait until October…?
If you want to get a really good look at what I'm talking about, check out Jon's channel on YouTube where you can see the various effects in use, and they're all available for sale at outrageous-media.com.
Coming soon, I sit down with Topher Adam, avant garde photographer and costume designer, and editor of my personal fantasy magazine, Dark Beauty.