Goth Chick News: 16th Annual Halloween & Attractions Best in Show
Goth Chick News: 16th Annual Halloween & Attractions Best in Show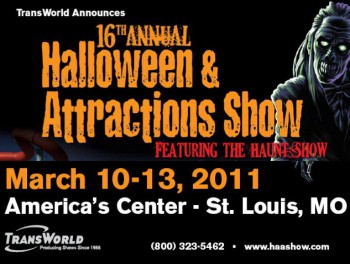 Last weekend, St. Louis, MO played host to the 16th Annual Halloween & Attractions Show which was side by side with the Halloween Costume & Party Show. These events have not occurred simultaneous in several years and to have this much Halloween in one place was, well…
Let's just say I needed to have a nice long lie down afterwards.
The HAS and the HCPS play host to vendors of every imaginable item for professional haunted attraction creators. Aisles of latex body parts, animatronic werewolves, smoke machines, scary sound effects, fake castle walls, grossly realistic masks and special effects makeup kept me engrossed for the full nine hours that the show ran on Saturday. In addition, I met several amazing artists, and a couple of horror movie directors that I'm sure you'll recognize. But I'll leave those as a surprise for later.
Over the coming weeks I will have the pleasure of bringing you several full-length interviews with the most intriguing people I met. But as I've done each year, we'll start with a "Best in Show" list and let me say, it's hard to stand out amidst this bloody mess. All of these items are available for purchase by the general public on the web sites indicated and represent the most innovative products for 2011.
I love this job.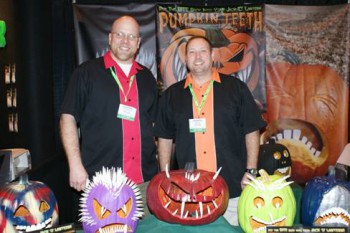 Pumkin Posts, brought to you by Randy Steman of Cool Buffalo Products, wins the coveted "5-Bat Award" for being just about the most amazingly innovative way to display your pumpkins.
Skeletal hands, with model names like "The Last Grasp" have stakes on one end and can be stuck into your lawn with your pumpkin perched on top. Keith let us know they will eventually come in different heights so you can get that nice tiered effect. (www.coolbuffalo.com)
And while we're on pumpkins, put a bite into those tired eyes-nose-mouth carving designs with Pumpkin Teeth.
Keith Ksobiech is the mastermind behind these ingeniously simple plastic, spiked teeth which also glow in the dark. Poke them into your carved pumpkin, mixing up the various shapes, and viola! Instant horror-pumpkin.
Now imagine your toothy creation perched on a skeletal hand. Let me tell you, it's going to be all-go at Chateaux Goth Chick come October.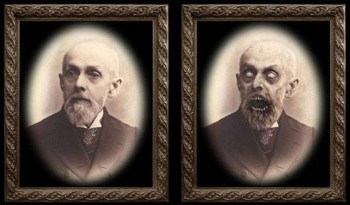 Unfortunately I'm breaking my own rule as Pumpkin Teeth are not available for sale on the web site, but I'm assured they will be omnipresent in all Halloween retailers this fall.
But go visit the web site anyway for the sample pictures and cool background music. (www.buypumpkinteeth.com)
(Click on any of the images for larger versions.)
Edward Allen and our very creative friends over at Haunted Memories are at it again with a whole new collection of holographic pictures.
They've been a show favorite for several years but "Grandpa Zachary," a new 2011 addition, truly gave me the creeps.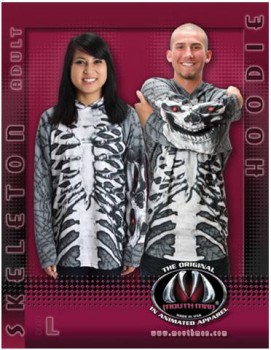 Ranging in size from 5×7 to 16×20 and resembling antique photos at first, the images change as you walk past them, as if the eyes following you weren't unnerving enough.
I have two 16×20's in big gothic frames which go up in my living room every Halloween, and my office wall has a collection of the smaller versions.
With names like "Uncle Eamon" and "Aunt Maggie" you can collect an entire family of vampires, zombies and werewolves to freak out your co-workers. (www.hauntedmemories.com)
The Mouth Man Apparel company has a really unique product and an interesting story to go along with it.
Founded by Journey bass player Ross Valory, the idea for the graphic shirts came to him while watching his friend's children making "jaws" by folding their arms together.
Valory linked up with his former band mate and graphic artist Prairie Prince to create these amazing shirts which originally caught my eye when I saw them in Signals catalog, but only in kid's sizes.
However, I met Dave Williams (Mouth Man's creative director) and Greg Stern (sales manager) at the show, both wearing adult shirts which was the moment I had been waiting for.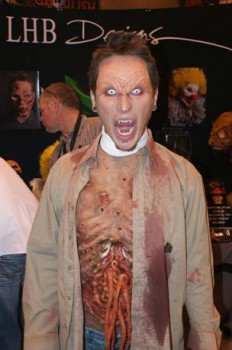 The skeleton design is the perfect thing for "casual Friday" here at Black Gate headquarters. (www.mouthman.com)
When the guy in the picture at left  jumped into the aisle in front of me, with his guts all wiggling in my face, I had to know more.
LHB Designs are the geniuses behind the "vampire forehead" latex appliance that looked so amazingly real, I had to have one for Mr. Goth Chick. For around $30 you get Hollywood-effect-style makeup with one easy application.
The body armor with the wiggling guts will set you back a bit more at $250, plus the compressed air to really make the effect.
But still, a small price to pay for scaring the crap out of the neighbor kids. (www.lhbdesigns.com)
Last but not least is the harmless and kid-friendly addition to your Halloween high jinks; Haunted Brew.
Created by the McSteven's company, Director of Sales Alex Pava gave me a taste of the blood-red hot chocolate, which also comes in pumpkin orange and is sold in a coffin.
If you froth the stuff up by pouring it into your mug from a distance, it does look fairly disturbing; the perfect thing to keep around the house for those unexpected guests who drop by in October,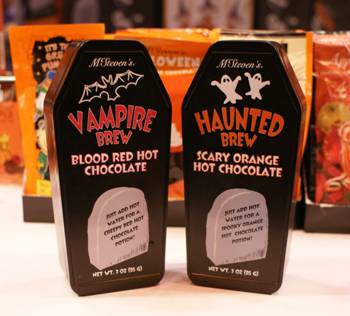 And it's exceptionally yummy when a dash of adult beverage is added. (www.mcstevens.com)
In addition to the "Best in Show" I'd be remiss if I didn't create a couple of special categories for those vendors that defy standard explanation.
The Best Darn Haunted Effect I Have Ever Seen Award goes to Pale Nite Productions and their video effect windows. I can't even begin to explain it except to say a HD video loop runs behind the window in each display.
Just go look for yourself here and start saving your pennies.
Each effect runs around $4000, but still… (page down to the effect called "Zombie Attack." Seen close up you don't know whether to laugh or throw up in your mouth a little).
The Most Disturbing Thing I've Ever Done Award goes to The Last Ride, a motion simulator ride that you experience while laying in a coffin.
You literally climb into a real coffin and get the lid shut on you. Then a soundtrack of your own burial plays inside the coffin while the whole thing bounces around like you're being thrown in the back of a hearse, bounced down a gravel road, and hurled down six feet under.
Click here to watch a video of what the whole thing looks like from the outside. And though you might think a Goth Chick would feel right at home in coffin-ride, I actually busted out before it was over much to the dismay of the proprietor.
The Last Ride goes for about $3600 and the purchase of one will ensure you never get asked to babysit anyone… ever. (www.halloweenconnection.com)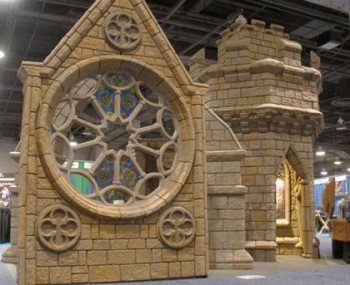 The Thing I'd Most Likely Blow All My Savings On Award goes hands down to Nethercraft Statuary (www.nethercraft.com) who can quite literally build your own gothic cathedral right in your own backyard.
The vacuum-formed plastic is purchased in panels and attached to your choice of framework depending on how temporary or permanent you want your structure to be.
The realism is uncanny, and I was torn between the cathedral and the Egyptian tomb.
Either way, a complete structure can run anywhere from $5000 – $10,000 and up. However, for roughly $150 per three-foot panel you can turn any room in your house into something interesting… like a dungeon, for instance.
The Best Gothic Musicians Ever Award, not surprisingly goes to our personal fav, Edward Douglas and the boys of Midnight Syndicate.
They've got a new CD coming later this year that they are so excited about they're keeping it a secret (which is driving me nuts).
Their indy movie release from last fall, The Dead Matter, has been garnering all sorts of awards and is currently in the running for a prestigious Rondo Hatton Classic Horror Award.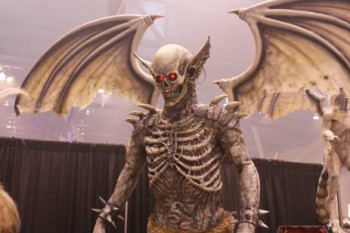 Show some Black Gate love and click here to vote for The Dead Matter.
In the coming weeks I will have the privilege to sit down and chat with the famous Charles Band, producer of well over 200 horror classics such as Puppetmaster and Crawlspace.
I'll also bring you a chat with Mr. Robert Kurtzman about his movies such as From Dusk Till Dawn and Army of Darkness as well as his production company Creature Corps.
There will also be introductions to some of the most amazing artist I've seen in recent memory, so stay tuned to this spot.
Have you ever been in a real coffin or spent insane amounts of cash on a costume of insane magnitude? If so, leave a comment or drop me a line at sue@blackgate.com.