The Desert of Souls, a Review
The Desert of Souls, a Review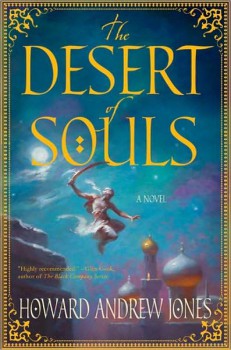 "We should talk more, you and I," he said, "about storytelling."

–Howard Andrew Jones, The Desert of Souls
The Desert of Souls is the debut novel of Black Gate magazine managing editor Howard Andrew Jones. About ¼ of the way into it, I thought aloud: You've got to be kidding me. A debut novel? Jones' Arabian Nights-style adventure has the polish of a cut diamond, and the finish of a veteran author.
The Desert of Souls is a proper fantasy, albeit placed in a historical setting, so there's magic, undead monsters, god-like snakes, and more. I haven't encountered a djinn on the printed page since my old AD&D days, and was pleasantly flooded with memories of Oasis of the White Palm as I read. The Desert of Souls features two heroes, Dabir and Asim, who spend large part of the book in near-death situations in pursuit of the wizard Fifouz, who plots to visit an ancient curse on a modern city.
Jones has an excellent sense of pace and an affinity for a tale properly told. Not rushed, but told as a story should be told, as though novelist and the reader were drawn up around a campfire with the whole night ahead for stories. A lot happens in The Desert of Souls but it's not told breathlessly; the pace is languid at times, quick at others in Asim's first person narrative. It's also unabashedly optimistic, a welcome relief in these often dark times of current fantasy offerings.
The true strength of The Desert of Souls is its setting. Jones paints a realistic picture of the desert as a harsh wasteland, but also as a place of wonder where adventure awaits over every dune. Some of his descriptions are poetry. Here's one of my favorites, as relayed through a conversation between Asim and the poet Hamil:
"I think that in the darkness beneath the stars the desert evokes even more loneliness than the sea."

"That may be so," I conceded.

Hamil must have been musing on this for a while, for he continued: "Both stretch in every way around you, dwarfing your existence to insignificance. Upon the sea is constant motion and the sense that you are in a place you were not meant to go and do not belong."

"That is true." Fish belonged in the sea, not men.

"The desert is entirely different—it moans like a ghost; everywhere about you is the sensation of ineffable antiquity. Beneath the dunes at every hand might lie some ancient palace, vanished from the knowledge of man."
Jones also does a fine job bringing to life Asim and Dabir, a sympathetic pair who play off each other's strengths and bear a loose resemblance of the brains and brawn pair of Fritz Leiber's Fafhrd and the Gray Mouser (the former are more cerebral, and far less egotistic than Leiber's heroes, but possess the same good humor and Asim's case, the same slightly world-weary outlook on life).
The events of the tale are framed by a cryptic prophecy revealed by an old fortune teller, who reads the fate of Dabir, Asim, and their master Jaffar in a trio of blood-filled bowls. It's a wonderful framing device that Jones skillfully weaves into the tale: We are left to wonder at several junctures whether the bowls were accidently mixed up, or whether her prophecies are accurate. At first they seem all wrong, but as the tale progresses the pieces fall into place in surprising ways.
If I had to find a flaw in the novel, I would say that the story took a while to get going and to fully kindle my interest. But once Asim and Dabir take to the Tigris in pursuit of Fifouz I was firmly hooked, drawn along effortlessly but relentlessly until the end.
The Desert of Souls contains a meta-narrative about the larger concept of storytelling which runs alongside the brightly-pained swords and sorcery tale. Through his characters Jones speaks of the courage it takes to tell stories and opening oneself to the accompanying criticism that inevitably follows. "I have seldom met a man who so feared taking up a pen," says the old fortune teller to Asim, who finds it easier to wade into mortal combat with a blade than to tell a tale, though he arguably has more skill at the latter.
Perhaps Jones would be kind enough to entertain a comment as to how much he put of himself into Asim. Regardless, he took the brave step of writing his first novel and I'm glad he did. I wish him the best on his next adventure onto the printed page.