Crawling From the Wreckage: Grant Morrison's Doom Patrol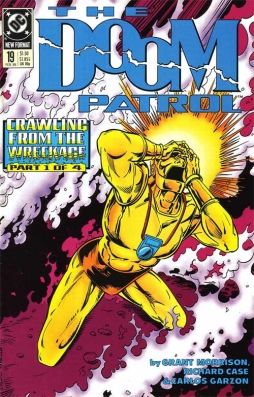 Grant Morrison's Doom Patrol needs no context to be enjoyed; it is its own strange, powerful creature. But describing the context of the thing helps to throw into relief the accomplishment of the work. And for those who may not know the comic, explaining what it came out of may help to explain what it is itself.
The Doom Patrol was a group of characters created for DC Comics in the early 60s, as the Silver Age of comics was getting underway; their first appearance, in My Greatest Adventure #80, hit the stands just before the first issue of Marvel's X-Men. The two groups were famously similar: both were led by wheelchair-bound geniuses, and more significantly, both were a little stranger, a little darker, than other supergroups. The Patrol consisted of the Chief, the aforementioned scientific genius; Cliff Steele, AKA Robotman, whose brain had been transplanted into a metal body following a terrible accident; Negative Man, or Larry Trainor, a pilot wrapped in bandages who controlled a strange black 'negative spirit'; and Elasti-Girl, Rita Farr, who could increase or decrease her size tremendously. Besides the similarity to the X-Men, the group vaguely resembled another Marvel team: the scientist leader, the orange-hued strongman (Robotman), the flying energy-controller (Negative Man), the woman who could disappear (by shrinking out of sight).