Winter 2012 issue of Subterranean Magazine Now Available
Winter 2012 issue of Subterranean Magazine Now Available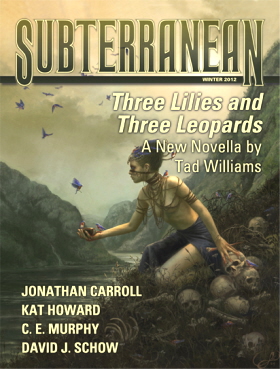 Subterranean Press has published the Winter 2012 issue of their flagship online magazine.
This is the 21st issue. It is presented free by Subterranean Press; content is released in weekly installments until the full issue is published.
This complete issue will feature a pretty impressive lineup:
"Water Can't Be Nervous" by Jonathan Carroll
"The Way the Red Clown Hunts You" by Terry Dowling
"The Least of the Deathly Arts" by Kat Howard
"Seeräuber" by Maria Dahvana Headley
"Drunken Moon" by Joe R. Lansdale
"Chicago Bang Bang" by C.E. Murphy
"Treasure Island: a Lucifer Jones Story" by Mike Resnick
"The Last Song You Hear" by David J. Schow
"Three Lilies and Three Leopards" by Tad Williams (a new 20,000 word novella)
Subterranean is edited by William Schafer, and published quarterly. The Winter 2012 issue is available here.
The striking cover is by Lauren K. Cannon, whom we met at the World Fantasy Convention in San Diego in November. She had the most impressive booth in the Art Show (by a nice margin), and the unanimous opinion of the Black Gate staff was that it was my duty to lure her into doing art for us — the sooner the better.
We last covered Subterranean magazine with their previous issue, Fall 2011.