New Treasures: Wally Wood: Strange Worlds of Science Fiction
New Treasures: Wally Wood: Strange Worlds of Science Fiction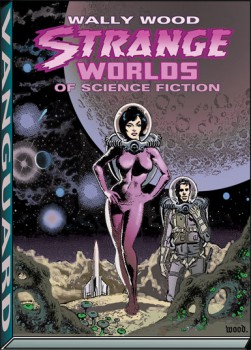 Wow.
Wally Wood is one of my all-time favorite artists.  When Scott Taylor asked me to provide my list of nominees for his Top 10 Fantasy Artists of the Past 100 Years post, I had Wood right near the top.
Wood died over 30 years ago, but his influence on SF and fantasy art in the 1950s — especially his groundbreaking work with EC comics, and the more than 60 covers he did for Galaxy magazine — was staggering.
Virtually all of Wood's EC work has been now been collected, in handsome volumes showcasing his brilliant art for Weird Science, Weird Fantasy, Tales from the Crypt, and many others, as have his covers for Marvel, DC, and other top-tier comic publishers.
But Wood first made his name in now-forgotten science fiction comics of the 50s such as Strange Worlds, Captain Science, and Space Detective. Now Vanguard Publishing has collected a fabulous trove of nearly two dozen complete tales from this era, dating from 1950 to 1958, in a thick oversized volume titled Wally Wood: Strange Worlds of Science Fiction (click on the image at left for a larger version).
Strange Worlds is an absolutely beautiful production, 224 pages mostly in full-color. It is edited by J. David Spurlock and designed by Mark McNabb. The paperback edition is $24.95, and I got mine from Amazon for just $16.47, after the Amazon discount. It's also available in a slipcased Hardcover Edition for $69.95.
The book also includes an extensive gallery of some of Wood's best covers from the 1950s, as well as a complete story from the pre-Marvel Journey Into Mystery ("The Executioner," Oct 1956, from issue 39), and a sampling of his full-page Sky Masters of the Space Force comic strip from 1958, with art by Wood and Jack Kirby.
Wally Wood: Strange Worlds of Science Fiction is my most exciting purchase of the last six months. I have no idea what the print run was, so I strongly advise you to get your own copy before it sells out.