Fall 2011 issue of Subterranean Magazine Now Available
Fall 2011 issue of Subterranean Magazine Now Available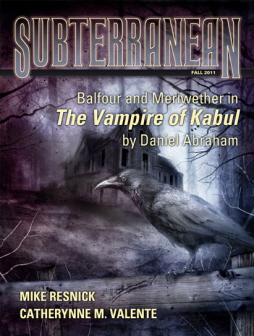 The Fall issue of Subterranean Magazine  is now available.
This issue features four pieces of original fiction:
"White Lines on a Green Field" by Catherynne M. Valente
"SHAKA II" by Mike Resnick
"Antiquities and Tangibles" by Tim Pratt
"Balfour and Meriwether in The Vampire of Kabul" by Daniel Abraham
Plus the usual reviews, and a non-fiction essay:
Cutting Edge Technology: The Life and Sad Times of the Western Sword by K. J. Parker
Subterranean is edited by William Schafer, and published quarterly. Most of the first seven issues are still available in print; the 8th print issue — with contributions from Michael Marshall Smith, Tim Lebbon, R. Andrew Heidel, John Scalzi, and others — is in pre-order.
The magazine switched to an online format with the Winter 2007 issue, and has published 20 online issues so far. It is presented free online by Subterranean Press, content is released in weekly installments until the full issue is published.  The complete Fall 2011 issue is available here.
We last covered Subterranean with their previous issue, Summer 2011.