Summer 2013 Subterranean Magazine now Available
Summer 2013 Subterranean Magazine now Available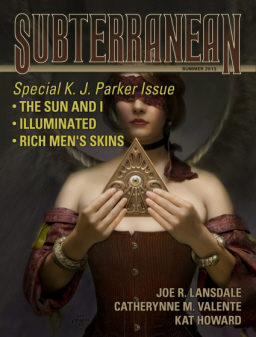 The Summer installment of online dark fantasy magazine Subterranean is a special K. J. Parker issue, with two short stories by the pseudonymous author of The Folding Knife and The Engineer trilogy, "The Sun And I" and "Illuminated," and an article, "Rich Men's Skins; A Social History of Armour."
I wonder if the editors have any inside info on who the mysterious K.J. Parker really is? Those Subterranean guys are pretty connected; it's their job to be in the know on industry secrets and stuff. They've published Parker plenty times before — most recently with "Let Maps to Others" (Summer 2012), "The Life and Sad Times of the Western Sword" (Fall 2011), and the World Fantasy Award-winning novella, "A Small Price to Pay for Birdsong" (Winter 2011).
After a lengthy association like that, you'd think they'd have shelled out a couple bucks for a private eye, and maybe have some fuzzy photos and a database of incriminating leads by now. Like the fact that K.J. Parker and John R. Fultz have never been seen in the same room together. Hmmmm.
If Lee Moyer's cover looks familiar, it should — it was first used as the cover for Weird Tales 357 (see it here). No crime in re-using great art I guess, but you'd think they'd have chosen something less recent. That issue of WT came out just two years ago! Maybe they're on a budget. Private eyes aren't cheap.
They didn't skimp on the contents though — as usual, this issue is packed with great fiction from some of the top names in the industry, including Joe R. Lansdale, Catherynne M. Valente, and Kat Howard.
Here's the complete table of contents:
"The Sun And I," by K. J. Parker
"Stage Blood," by Kat Howard
"Illuminated," by K. J. Parker
"The Case of the Stalking Shadow," by Joe R. Lansdale
"Rich Men's Skins; A Social History of Armour," by K. J. Parker
"The Shoot-Out at Burnt Corn Ranch Over the Bride of the World," by Catherynne M. Valente
"Don't Ask," by Bruce McAllister and W. S. Adams
Subterranean is edited by William Schafer and published quarterly. The Summer 2013 issue is completely free and available here; see their complete back issue catalog here.
We last covered Subterranean magazine with their previous issue, Spring 2013.