Weird Tales 357 Arrives
Weird Tales 357 Arrives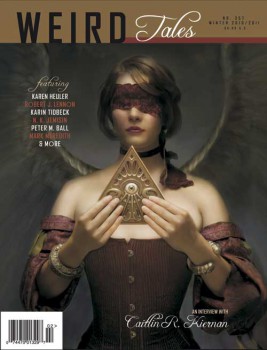 The office copy of Weird Tales arrived today, and it looks great. Howard Andrew Jones immediately challenged me to rock-paper-scissors-lizard-Spock for the right to take it home, and then had the poor grace to win the best two-out-of-three rematch. Bonehead.
Before it passed out of my grasping hands forever, I did notice that this issue has six new short stories, from N.K. Jemisin, Karen Heuler, J. Robert Lennon, Karin Tidbeck, Peter M. Ball, and Mark Meredith, and poems by Kurt Newton and Seth Lawhorn.
Matthew Kressel contributes a non-fiction piece on real-life weird tales, Geoffrey H. Goodwin interviews Caitlin R. Kiernan, and Contributing Editor Kenneth Hite reports on Lovecraft's fascination with the town of Kingsport in "Lost in Lovecraft."
Rounding out the issue are four pages of book reviews and an editorial by Ann VanderMeer, in which she reports on staff changes at the magazine, including the resignation of Stephen Segal, who left for an editorial position at Quirk Books. Ann has now become Editor-in-Chief, and continues to serve as fiction editor, and Mary Robinette Kowal and Paula Guran have joined the staff, as Art Director and Non-Fiction Editor, respectively.
We last reported on Weird Tales with issue 356 in November.  Good to see the magazine stick to a regular quarterly schedule, just as promised.
Cover price for the issue is $6.99. It is 80 pages; the gorgeous cover is by Lee Moyer. Their website is here.