Steven Erikson finally gets a Bestseller with The Crippled God
Steven Erikson finally gets a Bestseller with The Crippled God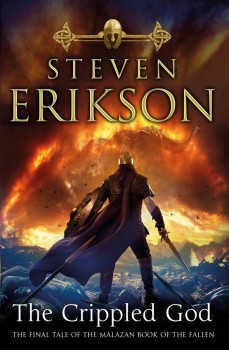 Justin Golenbock, publicist at Tor, tells us that Steven Erikson's The Crippled God, the last book of The Malazan Book of the Fallen, will debut at #12 on the print bestseller list in the March 20 edition of The New York Times. It's only the second time for Erikson — last year his previous novel barely made the list.
As Justin puts it:
Steven's first novel, Gardens of the Moon, came out in 1999 to much fanfare…and flopped. We spent the next ten years and eight novels telling everybody and anybody who would listen that this was THE fantasy series to be reading, the best that no one knew about. The depth and breadth of its world, characters and cultures, its heartbreaking yet addictive story, and the level of pathos and philosophy embedded into every narrative layer is staggering. Erikson's core fans knew; so many of our top-selling authors kept telling us, he's the guy who deserves it more; yet it was on us to convince everyone else.

Then last fall, Steven's ninth novel, Dust of Dreams, finally squeaked its way onto the NYT extended bestseller list, claiming the last spot at #35… and it was just this afternoon that we learned that the tenth and final novel in his Magnus opus will get the due he so richly deserves.
During his 2008 book tour Steven confirmed that he had signed to write six more Malazan novels; two trilogies, one of which would be a prequel to the main series, detailing the history of Anomander Rake and Mother Dark. He also plans six additional Bauchelain and Korbal Broach novellas, set in the same world.
Congratulations to Steven Erikson, Justin Golenboc, and Tor books on a job well done!