Summer 2012 issue of Subterranean Magazine now Available
Summer 2012 issue of Subterranean Magazine now Available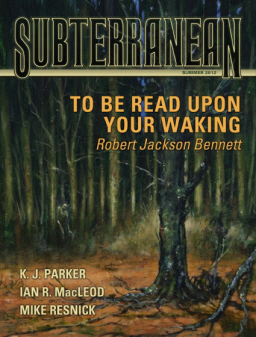 Subterranean magazine is one of the best sources of online fantasy, and also one of the most reliable. They've published a total of 23 issues; the first seven were print, and it became an online publication in Winter 2007. It used to be presented in a rolling format, with new fiction and articles available every week, but with the latest issue they've switched to posting the complete contents all at once.
Which means you can now enjoy brand new novellas by K J Parker and Robert Jackson Bennett, and original short stories by Ian R MacLeod and Mike Resnick, as well as a Notes from the Otherworld Column by Kelley Armstrong. Here's the complete table of contents:
"Let Maps to Others," by K. J. Parker
"Tumbling Nancy," by Ian R MacLeod
"To Be Read Upon Your Waking," by Robert Jackson Bennett
"The Puce Whale: A Lucifer Jones Story," by Mike Resnick
Column: Notes from the Otherworld by Kelley Armstrong: "The Sky is (Probably) Not Falling"
In her mid-July fiction review column at Locus Online, Lois Tilton had high praise for the first story:
The K J Parker in particular quite restores my enthusiasm for stories… A brilliant and intriguing work, full of hidden documents, maps, codes, and forgery, as well as adventure, voyages mercantile and military, rivalry, politics, and war. There's a high degree of historical verisimilitude, based on meticulous attention to realistic detail.

– HIGHLY RECOMMENDED
Subterranean is edited by William Schafer, and published quarterly. The Summer 2012 issue is completely free and available here.
We last covered Subterranean magazine with their previous issue, Spring 2012.