Spring 2012 issue of Subterranean Magazine Now Available
Spring 2012 issue of Subterranean Magazine Now Available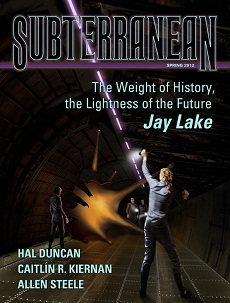 I admit I never know when to blog about Subterranean magazine. I really enjoy it, and I used to go to great lengths to acquire the print issues. But now that they've converted to an online zine they're releasing the contents in a rolling format, a new story or article every week.
Do I announce it here when the first article goes up? Or wait until the entire magazine is posted, two months later? By the time a new issue is up, I've already forgotten what I did last time. So over the years I've finally developed a consistent system: I blog about it whenever I remember.
So here I am to tell you about the Spring 2012 issue. And it's got a terrific line-up, nearly 70,000 words of fiction, including two big novellas from Jay Lake and Allen Steele:
"The Weight of History, the Lightness of the Future," by Jay Lake (24,000 words)
"Angel of Europa," by Allen Steele (19,000 words)
"Sic Him, Hellhound, Kill Kill!" by Hal Duncan
"Random Thoughts Before a Fatal Crash," by Caitlin R. Kiernan
"Here and There," by Neal Barrett, Jr.
"A Holy War," by Mike Resnick
Subterranean is edited by William Schafer, and published quarterly. The Spring 2012 issue is completely free and available here.
We last covered Subterranean magazine with their previous issue, Winter 2012.