New Treasures: Jeff Strand's A Bad Day for Voodoo
New Treasures: Jeff Strand's A Bad Day for Voodoo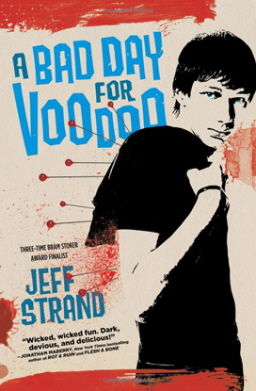 Horror and comedy don't usually mix. But when they do, the results can be spectacular. Ghostbusters, Young Frankenstein, An American Werewolf in London, Buffy the Vampire Slayer, Tremors, Army of Darkness, Scream, Shawn of the Dead… you see my point.
Three-time Bram Stoker Award finalist Jeff Strand has walked this road before. His Andrew Mayhem novels, including Single White Psychopath Seeks Same and Casket For Sale (Only Used Once) have built his reputation as a master of the modern gothic comedy. His first YA novel is A Bad Day for Voodoo, and the jacket copy grabbed my attention immediately.
When your best friend is just a tiny bit psychotic, you should never actually believe him when he says, "Trust me. This is gonna be awesome."

Of course, you probably wouldn't believe a voodoo doll could work either. Or that it could cause someone's leg to blow clean off with one quick prick. But I've seen it. It can happen.

And when there's suddenly a doll of YOU floating around out there — a doll that could be snatched by a Rottweiler and torn to shreds, or a gang of thugs ready to torch it, or any random family of cannibals (really, do you need the danger here spelled out for you?) — well, you know that's just gonna be a really bad day …
No word on whether this is the first installment of a new series (when asked, Strand replies "I don't know. I depends on whether at the end all of the characters get killed.") But the book is already getting a lot of attention. Jonathan Maberry, the New York Times bestselling author of Rot & Ruin, weighed in with:
Jeff Strand is the funniest writer in the game, and A Bad Day for Voodoo is wicked, wicked fun. Dark, devious and delicious.
I think this book is what I need this week. A Bad Day for Voodoo is 251 pages from Sourcebooks Fire. It is $8.99 in trade paperback and digital format. It was released on June 5, 2012.